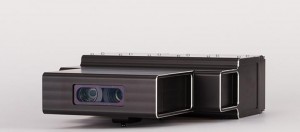 Chromasens, a manufacturer of line-scan camera systems for 2D and 3D machine vision applications, will showcase the latest generation of its 3DPIXA 3D stereo line-scan color cameras at the Laser World of Photonics, which comes to Munich, Germany, 26–29 June 2017.
Chromasens will join more than 1200 exhibitors of lasers and optoelectronics, optics, measurement systems, imaging products and sensors at Laser World of Photonics, the 23rd annual fair and congress for optical technologies. Chromasens will be exhibiting in Hall A2, Stand 113/6.
At the show, Chromasens will be highlighting its new 3DPIXA HR 3D camera engineered for challenging electronics, semiconductors and automotive manufacturing inspection. The new camera is available in two models: The 3DPIXA HR 5 µm has a large field of view of approximately 35 mm and a scanning speed of up to 30 kHz, which allows for very short inspection times at a resolution of 5 µm. The 3DPIXA HR 2 µm is designed for applications requiring even higher resolution and precision and covers a 16 mm field of view, achieving 0.5-µm height resolution, twice the resolution of previous 3DPIXA versions. Both cameras capture 2D color and 3D data images simultaneously.
According to research, the 3D machine vision market is projected to be worth $2.1 billion by 2022, growing at a rate of 11% between 2017 and 2022. Key factors driving this growth are integration of 3D vision systems with robot controllers, rising demand for 3D object analyses in manufacturing applications, and increasing demand for non-industrial 3D machine vision systems.