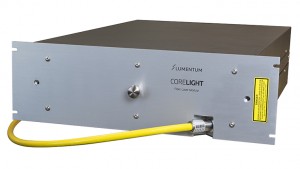 Lumentum showcases its products addressing the industrial diode laser, commercial laser and 3D sensing markets at Laser World of Photonics in Munich, Germany, from 26–29 June 2017 at the Munich Trade Fair Centre in Hall A2 – Stand: #320.
Conference attendees can see the company's industrial and consumer diode, pump and commercial laser products. On hand is the new generation of the CORELIGHT Series — Kilowatt-Class Fiber Laser Engines as well as the previously announced 200-W Fiber-Coupled Diode Pump Laser Module ST2, the Lumentum ultrafast laser PicoBlade2, the Q-Series diode-pumped UV lasers, and 3D sensing and industrial diode laser displays.
Lumentum pump lasers
Announced at SPIE Photonics West 2017, a new fiber-coupled pump laser module (the ST2) is now in full production. Fiber-coupled pump laser modules are a main component in applications such as pump sources for rod, fiber and disk lasers, amongst others. The ST2 is part of the ultra-compact and high-brightness ST series which enables a "build-your-own" kilowatt (kW) laser. The ST series leverages a history of using fiber-coupled device packages such as the L4.
The ST series undergoes rigorous testing for endurance and power stability to withstand prolonged use in manufacturing settings.
Ultrafast industrial lasers – PicoBlade 2
The most recent addition to Lumentum's industrial laser portfolios — PicoBlade 2 — is in volume production and is designed for applications from micromachining to the life sciences and metrology. Features include FlexBurst, MegaBurst, Sync and AccuTrig to control pulse format, pulse timing and energy for ultimate throughput.
High-powered Q-series lasers
Two Q-series diode-pumped UV lasers — Q306 and Q305 — will be showcased in the booth. They support a range of micromaterials-processing applications. They deliver up to 1mJ of energy at 355 nm with a beam quality of M2 less than 1.2.
CORELIGHT Series – new-generation kilowatt-class fiber laser engines
The next generation CORELIGHT YLE fiber laser engines — highlighted earlier this year at SPIE Photonics West 2017 — are now available in production volumes. These fiber laser systems are offered in single-module 2 kW and 3 kW systems and multi-module 4 kW, 6 kW and 9 kW systems. Lumentum will showcase a CORELIGHT YLE 9 kW laser system at Laser World of Photonics Munich 2017.
The CORELIGHT YLE series fiber laser systems was designed for challenging cutting, welding and material deposition deployments. Customers now have additional configuration options. CORELIGHT's beam characteristics enable high-quality and high-speed cutting performance of steel, copper, brass, aluminum and many other materials.
3D sensing
Lumentum has a range of 3D sensing products to enable next-generation capabilities for diverse consumer electronics and automotive applications. Lumentum products include a high-power diode laser portfolio, which includes edge-emitters, fiber-coupled devices and vertical-cavity surface-emitting lasers (VCSELs). A VCSEL wafer and a light detection and ranging (Lidar) display will showcase 3D sensing capabilities.