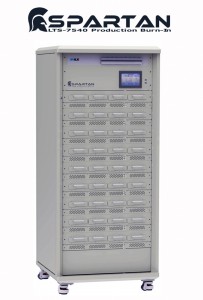 MKS Instruments, Inc., a global provider of technologies that enable advanced processes and improve productivity, releases the second member of the Newport ILX Lightwave Spartan Series Laser Diode Test System, designed specifically for the demands of high volume production burn-in of laser diodes. The Spartan LTS-7410 system is capable of delivering up to 500 mA of drive current to as many as 8,960 devices in a single rack. The Spartan design team's focus on production burn-in needs resulted in an economical solution without sacrificing the quality and laser diode protection users have come to trust from ILX products.
The Spartan Series system utilizes an intuitive color touch panel designed for the operator and removes the need for a separate computer control system. The test engineer has full access to the system via a web interface to set up tests, download data, and check current status.
Device carriers can be custom designed for the user's laser package. Care was taken to reduce complexity of the carriers in order to increase reliability and to reduce cost.
Temperature and current control of the tests is accomplished through independent control of up to 14 test scenarios in a single rack. The user can adjust current ramp rates, output current set points, temperature set points, and temperature operating windows.