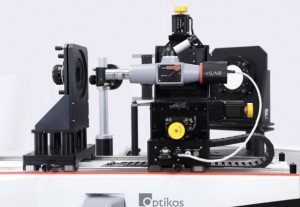 At this week's Laser World of Photonics in Munich, Optikos has live metrology bench running continuously to demonstrate how major components of OpTest lens measurement systems function under the control of OpTest 7 software.
Enhancements to OpTest 7 Software
For advanced lens testing, Optikos has announced that the next release of OpTest 7 software — scheduled for late summer — will include support for Python scripting using an integrated editor. This version will continue to support the writing of custom user interfaces with the latest Windows Communication Foundation (WCF) framework in compatible development environments, such as National Instruments LabVIEW, MathWorks MATLAB, VB.net and C#, while maintaining OLE support through a COM object in older programming environments such as Microsoft Excel VBA. Recent OpTest product advancements include new hardware for afocal and finite conjugate testing.
Comparing LensCheck capabilities with Optest bench
For smaller aperture lenses, Optest is demonstrating a LensCheck instrument alongside the larger station, providing an opportunity to compare the capabilities of the two systems — both powered by OpTest 7 software. New LensCheck options include an Adjustable Conjugate Instrument that enables measurement of lenses at any object distance from -1 m to infinity to +1.2 m for real object distances; and at any field angle within +/-100°.
Merdidian high-speed camera testing
Small aperture devices such as webcams or vehicle and cell-phone cameras are suitable candidates for Optikos' Meridian production testing system — capable of qualifying the alignment of a camera system to a mechanical interface, such as a product housing, in a single snapped frame. Advanced functionality offered with Meridian Prime or Imatest v. 4.2 software.
Optikos IQ Lab services
Metrology services are provided through the company's lab and offer comprehensive MTF lens and imaging sensor testing — all services performed by their optical engineers and technicians. The lab is available for contract metrology for testing components and complete imaging systems.