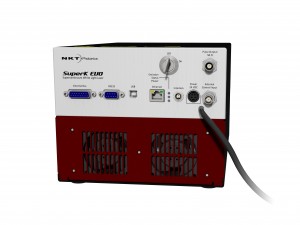 The new SuperK EVO white light lasers from NKT Photonics are designed for OEM integration in commercial applications. The EVO can be configured with output power levels anywhere from 100 mW up to 10 W with MHz repetition rate. The output spectrum covers 400–2400 nm and comes fiber delivered through a broadband collimator.
With a lifetime of thousands of hours, according to its maker, the SuperK EVO is suited for 24/7 applications, and the small footprint of 200 x 325 mm / 7.9X12.8" is optimized for OEM integration. The entire bottom of the lasers acts as cooling interface, allowing for flexible cooling solutions with both air and water, depending on the application and space constraints.
In addition to the use in industrial OEM integration, the EVO line is also available as cost-effective stand-alone lasers for laboratory use, where the first model is the SuperK EVO EU-4 — a 20 MHz, 3 W laser aimed at lifetime applications.
The new SuperK EVO will be available in Q3 2017 and is on display at booth B2.323 at LASER World of Photonics in Munich.