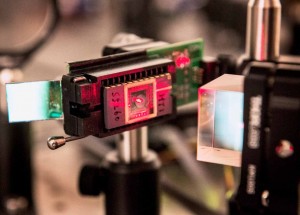 As the amount of electronic traffic stored within - and transferred between - the world's data centers continues to soar, optics and laser companies around the world continue to grapple with demands for increased bandwidth, as well for the faster and more flexible transmission of data. So, what are key recent trends in the development of optical and laser-based technologies for use in data centers? And what can we expect over the next few years?
'Denser' Solutions
One of the key technological challenges currently facing data center developers is how best to provide 'denser' solutions that increase aggregate bandwidth at the faceplate - or at the maximum possible power consumption level. As Adam Carter, Chief Commercial Officer at optical component company Oclaro, explained, these demands generally call on fibre optic companies to develop innovative laser and receiver packaging technologies that enable smaller form-factor packages without impacting overall power consumption or cost per Gigabit. As an alternative, he argues that optics companies could also consider offering different specifications that still enable a fit for datacentre application. For example, they could offer less 'stringent' optical specifications or reduce the lifetime of the technology 'from the 10-15 years expected by traditional service providers to 5-6 years for hyper-scale data center operators.'
"From a laser perspective, this means driving unique designs to reduce parasitic capacitances and increase bandwidth while producing lasers with lower threshold currents and increased slope efficiencies over a wider temperature range," he said.
Although he believes that existing technology is adequate for producing high bandwidth single-mode solutions, Carter argues that the laws of physics will soon obligate companies to seek alternative modulation techniques that enable efficient and cost-effective rises in bandwidth scale whilst simultaneously 'shrinking the pluggable package and lowering the power consumption' - as well as reducing the total solution cost for Data Center Interconnect (DCI).
"Utilising photonic integrated circuits enable us to integrate complex functionality at little to no increases in cost, whilst enabling us to achieve the densest solution, as we do not have to find any room for external componentry," he said.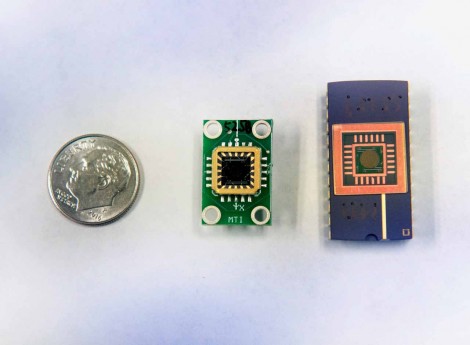 As the industry moves towards higher bandwidths, Carter also predicts that companies will need to create new efficient modulation formats 'that place less reliance on the laser performance' -probably calling for more emphasis to be placed on the use of silicon-based solutions.
"Further advances in electrical signal integrity will also have to be made as in some cases and applications high speed analogue functionality will need to be supported on next-generation connectors," he said.
"More emphasis will be put on arrayed devices as well. These are already utilised in some of the 100G and 400G client side interfaces today, however there is still a need for further development on high-speed laser arrays that enable cost effective packaged solutions," he added.
Free space optics
Another data center technology currently gaining a lot of momentum is Free Space Optics (FSO), which employs light travelling over 'free space' to transmit data wirelessly. One of the early trailblazers in this sector is Laser Light Communications, which late last year inked a deal with datacentre company Equinix to deploy the first-ever laser-based communications network.
Elsewhere, research teams at Pennsylvania State University, Stony Brook University and Carnegie Mellon University are busy working on a novel application of FSO technology to improve the configurability and scalability of data centers. The proposed Free-space Optical Inter-Rack Network with High Flexibility (or Firefly) architecture would employ infrared lasers and receivers mounted on datacentre racks to transmit information.
According to project lead, Prof. Mohsen Kavehrad, Director of the Center for Information and Communications Technology Research (CICTR) at PSU, although there have been 'many attempts' to design or prototype data centernetwork (DCN) interconnection networks that leverage optical network technology, most have involved wired (optical fibre) architectures with 'various degrees of optical switching.'
"To the best of my knowledge, our approach is the first all-wireless DCN interconnection architecture utilising FSO links that may be reconfigured in real time to adapt to prevailing traffic patterns," he said.
While he refers to the proposed approach as a 'radical departure' from current practice, he argues that the team is 'offering a complete solution by considering both enabling device technologies and control plane protocols and algorithms.' The preliminary project results indicate that the enabling steerable FSO link technology is 'feasible and within reach' - and Kavehrad reveals that the team are now focused on a research plan consisting of hardware design (involving FSO hardware and steering mechanisms), software design (involving network design and network management algorithms), and prototype implementation to integrate the hardware and software aspects into a small-scale DCN.
"The approach to extend work in the link management area by addressing scalability, link congestion during reconfiguration and transient misalignments will also advance the state of the art," he added.
Box-Out: A Vision for Future DCNs
In order to ensure the continuous performance improvement of datacentres or high performance computers, Kavehrad believes that a high capacity and low latency interconnect network is 'essential' - and that the use of optical switch technologies to handle such large bandwidth interconnect networks with low energy consumption will become 'inevitable.' As a result of the high amount of constant bit rate transmissions - particularly via video and audio - he also argues that heterogeneous traffic has become the 'new pattern' of digital streams.
"Each bit sent to a datacentre may induce the servers to exchange many thousands of bits to support complex algorithms. Server racks are interconnected in a multi-tiered network of electrical packet switches and optical links, with huge network throughputs," he said.
"As the switches scale to higher port speeds and port counts, the optical links must achieve higher bit rates and densities under tight cost and power constraints. Multi-tiered data center networks consume significant energy in electrical switching matrices and in parallel processing and synchronizing bit streams at numerous switch and transceiver interfaces," he added.
In Kavehrad's view, nearer-term solutions include increasing switch port counts to reduce the number of network tiers and integrating transceivers with switches to reduce the number of interfaces. He also contends that hybrid electrical–optical switching 'may offer a longer-term solution.'
"It combines electrical switching for short data packets with optical switching for connections lasting at least tens of milliseconds. The optical switches, based on microelectromechanical systems, exploit free space to achieve interconnection with minimal crosstalk," he said.
"In addition, the optical switch is of particular interest from the integration point of view. The relatively large size and slow reconfiguration speed of current commercial solutions has driven the research and development of more highly integrated silicon photonic switch fabrics, including micro ring, Mach-Zehnder and MEMS device designs each with their own challenges and trade-offs," he added.
Kavehrad says that work is also now underway on how to realise an optical circuit switching interconnect capable of more than 10 Tbps link bandwidth and 'more than 100,000 ends scalability for future datacentres and high performance computers.'
"First, the energy consumption of optical circuit switching networks related to the optical switch port counts is being examined. Then the WDM transmission and a shared WDM light source is introduced to achieve Tera Bits per Second link bandwidth with simple optical transceivers," he said.
"In addition, the design of a new optical switch control approach, which can reduce the control overhead time, is being introduced, with the associated challenges. Such an interconnect architecture offers direct end-to-end optical paths enabling low latencies with the 'speed of light,'" he adds.
Written by Andrew Williams, Contributing Editor, Novus Light Technologies Today
Image credit: Patrick Mansell, PSU