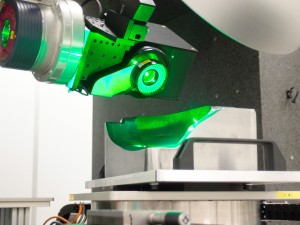 Ultrashort pulse laser ablation is a highly accurate laser micromachining method capable of machining any material with minimal damage. The unmatched versatility of this new production tool enables manufacturing of improved products or products with new functionality.
Lightmotif, based in The Netherlands, is a supplier of ultrashort pulse laser micromachining systems and processes. Its standard OP2 system is a versatile 5-axis micromachining platform that also serves as a modular base for semi-custom solutions.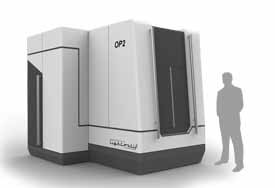 The company can design and construct a system that fits the requirements specific to any customer's application and intended use. The laser at the heart of the system is JDSU's PicoBlade, which is a Picosecond Micromachining Laser.
This laser is integrated onto a 2.5D or 3D manipulator together with a 2D vector scanning system. Adding Lightmotif's tightly integrated control to this combination enables accurate and fast micromachining, even for larger and 3D curved work pieces, according to Max Groenendijk, Director at Lightmotif.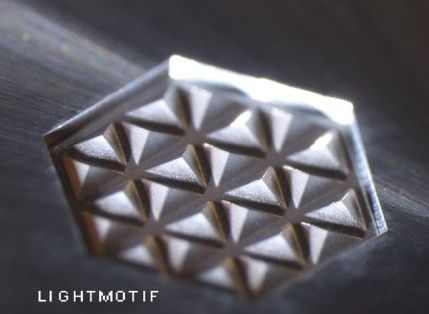 Accurate 2.5D profile micro milled into tungsten-carbide
"Our control software is specifically designed for step-and-scan laser micromachining and allows high-level and machine-independent job programming. Jobs are structured hierarchically and written in a general purpose object-oriented programming language (Python), making it possible to write very large and complex jobs or integrate third-party software easily. If the customer wants to write a script quickly for some simple experiments, that's possible, too," Groenendijk said.
Micromachining and texturing on curved surfaces
Customers are using the Lightmotif system mainly for micromachining and surface texturing on curved surfaces. Examples of micromachining applications are the production of micromolds or stamps in any kind of material, including very hard materials.
Applications of surface texturing include:
Friction reduction in lubricated contacts, for example on pistons or bearing surfaces
Change of the haptic properties of surfaces, e.g. for consumer products or medical products. Here surface textures are applied to reduce skin friction and to create silky soft surf,aces
Changing wetting properties of surfaces, e.g., to create super water repelling surfaces
Change of cell growth on surfaces, e.g., to optimize the attachment of bone to implants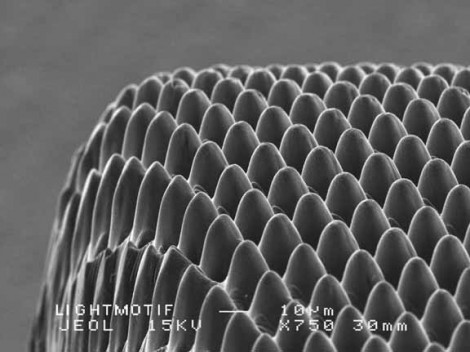 Textured stainless steel surface
Groenendijk noted that it's possible with the OP2 system to apply the textures needed for the above mentioned examples on complex 3D curved surfaces. This includes applying the surface textures to large and heavy molds, that for example can be used to produce plastic parts where the textures can be copied from the mold surface (e.g., by using an injection molding process).
Flexibility in pulse energy and rep rate
With the goal being to offer flexibility to the user, Lightmotif selected the JDSU PicoBlade based on its "unmatched versatility," according to Groenendijk. Important parameters are the pulse energy (how much microjoule is in one pulse) and the pulse repetition rate (PRF: how much pulses are fired per second).
The flexibility in repetition rate matches changing application requirements, allowing users for example to drill holes or machine a precise pocket at a high machining rate.
An ultrashort pulse laser has a certain maximum power. The JDSU laser is able to change the PRF from a very low value to a very high value, while maintaining a more or less constant maximum output power. That means this laser is able to achieve very high pulse energies at low repetition rates. In addition it offers the highest repetition rates available for these types of lasers, Groenendijk pointed out. The flexibility in repetition rate matches changing application requirements, allowing users to drill holes and machine a precise pocket at a high machining rate.
At high repetition rate the lasers naturally offer lower pulse energies. However, for a lot of micro milling applications with small spot sizes, Groenendijk said that you actually need to use a low pulse energy, "because using a high pulse energy will result in a machined surface with poor quality." This means, he said, that the pulse energy is constrained by the process you want to apply: "If you then want to achieve a high material removal rate, the best thing to do is to use a high repetition rate."
So a typical application for using a high repetition rate at low pulse energy is creating micro milled pocket (see photo of a tetrahedrons milled into tungsten carbide).
Conversely, an example of a low repetition rate combined with a high pulse energy is the drilling of holes. Here often a high pulse energy is needed to obtain a good quality.
The importance of flexibility
By being able to use very different laser parameters, one is able to use very different processing regimes. A user therefore isn't that much fixed in what he can do with the system. For flexible production, job-shop or research, that is a very important property.
A fixed production process can also benefit from the flexibility:
1. If the laser wasn't capable of delivering the optimal parameters - how do you find the processing regime in the first place? So for process optimization the flexibility is very valuable.
2. For some very demanding processes the feature of e.g. being able to very quickly change the laser power can be very useful, for example to compensate for variations. This can enable applications where a very high degree of accuracy is needed.
"We also needed tight control on the pulse train, since fast gating and fast modulation of pulse energies are essential for our machining approach. For adaptive micromachining we developed a scanning strategy where the pulse energy is constantly adjusted while scanning a line. This strategy compensates for inherent errors and helps users achieve a precise depth over the entire structure," Groenendijk said, concluding that, "We've found that the right machining approach, a flexible laser with fast modulation, and a well designed control software makes any application feasible and lets users benefit from all available features."
Lightmotif started using JDSU lasers (previously Time-Bandwidth Products) nearly five years ago, after having tested all other "usual suspects." Groenendijk noted that the Picoblade offers a combination of the highest pulse repetition rate and a fast modulation of output power. "It is the only laser that offers a feature called 'Flexburst' which can be very useful. For us this combination together with proven reliability sets this laser apart." Extensive testing has shown that the flexibility comes with reliability and quality. In conclusion, Groenendjk stated, "These are exactly the values that Lightmotif strives to realize in its machines as well".
Written by Anne Fischer, Managing Editor, Novus Light Technologies Today