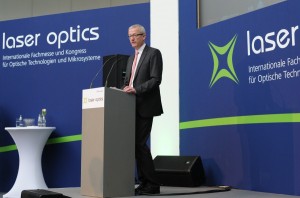 Laser Optics opened its doors yesterday in Berlin (Germany), showcasing optical technologies and microsystems, both of which represent key technologies of the twenty-first century.
In his opening address, Guido Beermann, Under-Secretary at the Berlin Senate Department for Economics, Research and Technology , said: "Besides the established major companies the optical technology sector in the Berlin/Brandenburg region features many small and medium-sized enterprises who, as hidden champions and with specialised products, are global market leaders. These startups first sprang up in the Berlin/Brandenburg region, which contains an almost unique cluster of research enterprises. More than 2,200 scientists are employed in research institutions in the region's optical technology and microsystems sector."
Two events, the OSA Optics & Photonics Congress and the Optical Sensing and Cyber-Physical Systems Congress, underline the international dimension of laser optics. Co-organised with the Optical Society (OSA), the congress will be dealing with high-intensity lasers and high field phenomena, quantum measurement and quantum information as well as optical plasmonic materials, among other topics. The scientific research taking place in this area will contribute significantly to developing laser technology applications of the future. Numbering more than 18,000 members in over 100 countries, the OSA is one of the world's leading scientific organisations for optical technologies.
The Optical Sensing and Cyber-physical Systems Congress focuses on the demands, challenges and opportunities en route to Industry 4.0. Leading experts from Germany and abroad will be taking part in the debut event, with speakers present from Australia, Poland, Russia, Switzerland and Spain. In future the convergence of optical technologies and microsystems will be a driving force in creating innovative products, for example in the field of sensing and information technology. The organisers of the congress are Fraunhofer IZM, Berlin Partner für Wirtschaft und Technologie GmbH, the Centre for Microsystem Technology (ZEMI) and Messe Berlin.
Companies and research institutions from eleven countries will be represented at the fair. Almost a quarter of the exhibitors in Halls 12 to 14 are from abroad. Once again, this year's laser optics is a platform for new products and innovations. They include a globally unique solution for manufacturing high-precision interference filters, exhibited by the Fraunhofer Institute for Surface Engineering and Thin Films (IST). LTB Lasertechnik Berlin will be showing how, using painless and reliable methods, in future it will be possible to detect human skin cancer at an early stage. The company is exhibiting an innovative, laser-based diagnostic device. FLIR Systems from Belgium, world leader in thermal imaging cameras, is exhibiting special cameras for high-resolution, high-speed applications. As in previous years, laser optics will cover a display area of around 5,500 square metres.
The outstanding supporting programme is further evidence of the international dimension of laser optics. Thus, under the supervision of the Heinrich-Hertz Institute, there will be workshops focusing on the latest European projects, a workshop on the European PhoxTroT project, and events co-organised by the European Photonics Industry Consortium (EPIC). This European industrial consortium will not only be hosting several events but also holding its annual conference in Berlin.
Once again, Enterprise Europe Network Berlin-Brandenburg and Berlin Partner für Wirtschaft und Technologie GmbH will be organising an EEN joint venture exchange. Events will include a workshop on 'High-Performance Diode Lasers for New Laser Material Processing Applications' (BrightLas project), the 8th Symposium on Light and Health (a special conference co-organised by the Technical University of Berlin, DAfP and LiTG), and a breakfast and lecture on bio-medical optical technology organised by OpTecBB.