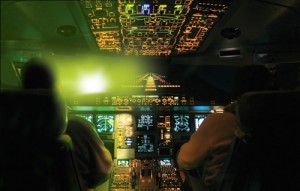 Laser pointers are inexpensive, easy to come by and becoming somewhat of a toy for people who point them into the air toward aircraft. Switzerland banned the sale of powerful laser pointers in May of 2011, and in the US, New York Senator Charles Schumer called on the Food and Drug Administration to restrict the sale of the more powerful lasers for recreational use. The threat to pilots and passengers during flight has become so serious in the US that in a recent blog, the FBI warned that this highly dangerous act is also a federal crime.
Laser attacks on aircraft over the skies of the US are on the rise. The FBI reports that incidents are projected to reach 3700 this year, up from 283 in 2005. This rise (of over 1100%) is due in part to the advances in the technology behind the laser pointer. Now a tiny, inexpensive hand-held laser can shoot a beam up to five miles into the distance.
To combat the growing number of incidents, the FBI recently established a Laser Strike Working Group National Initiative, which includes law enforcement partners and private entity stakeholders. The idea came from the Sacramento, California division, which created a working group in 2008 when incidents began to rise in that area. As a result, the number of attacks against commercial aircraft arriving and departing from the Sacramento International Airport decreased 75%.
In the US, aiming a laser pointer at an aircraft is now a crime that can be prosecuted under two federal statutes. A law put into effect this year makes pointing a laser at an aircraft a crime punishable by up to five years in prison and a fine of up to $11,000 per violation. Under a law already that was already on the books, those who interfere with the operation of an aircraft can receive up to 20 years in prison and be fined $250,000.

Video of green laser pointer shone at police helicopter
Even lasers considered "eye-safe" by the International Electrotechnical Commission (IEC) standard on laser safety (Class 1) have been found to be distracting to pilots. Proper labeling can help users understand the potential effects of the laser and these must include wavelength, maximum output, and IEC classification .
Some jurisdictions have restricted the sale or use of handheld lasers entirely. For example New South Wales, Australia requires a permit to possess a laser pointer. Other areas, such as the UK have taken a looser approach by restricts sale of laser pointers over 1 milliwatt, but laser pointers can be purchased or imported, which doesn't seem like much of a restriction. In the US, Senator Charles Schumer wrote a letter to the Food and Drug Administration in August of this year, urging the agency to implement purchase restrictions on Class IIIb and Class IV lasers. The Laser Pointer Safety website notes that laser pointer bans or restrictions may not reduce incidents of misuse, citing 733 laser/aircraft incidents in Australia in 2011, where a ban had been in place for three years. What may help reduce the misuse of laser pointers is an effort on the part of manufacturers and resellers to educate the public about the proper use and potential hazards inherent in misuse of low-powered laser pointers.
Photo: This image demonstrates the visual effects hazards and hazard distances of a 5-mW green laser pointer. Photo courtesy of Transport Canada
Written by Anne Fischer, Managing Editor,
Novus Light Technologies Today