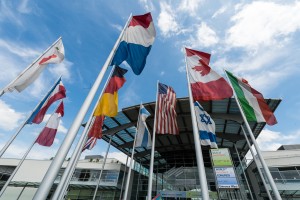 Laser World of Photonics 2013 opened its doors in Munich on Monday and anticipates a packed week of exhibits and conference sessions. Despite two other shows taking place in Germany, Sensor+Test in Nuremberg and Control in Stuttgart, Laser 2013 is well attended.
The Munich show, founded in 1973, is the biennial showcase of the photonics industry, and this year it celebrates its 40th anniversary. It is accompanied by the scientific-oriented World of Photonics Congress in the conference center next to the show grounds.
Bright outlook
Despite difficult economic conditions in several southern European countries such as Italy, Portugal, Spain, and Greece, the photonics industry is looking into a bright future. According to an industry study presented on the first day of the show by the three industry associations Spectaris, VDMA, ZVEI in cooperation with the German Federal Ministry of Education and Research, the global market of photonics is expected to almost double from 350 billion Euros in 2011 to 615 billion Euros in 2020.
VDMA Vice General Manager Thilo Brodtmann explained that the global photonics market grew above worldwide GDP each year between 2005 and 2011, but also pointed out that strong shifts of the market share are taking place to the favor of Asian countries, which at some point will represent two- thirds of the world production. Europe has been able to keep its market share of 18% until now, while North America and Japan have lost share, according to Brodtmann. The study identified four strong core segmentst that will be the backbone of future growth of the photonics industry, namely machine vision and metrology, production technology, optical components and system, as well as medical and life science. Photovoltaics, light sources, and information and communication technology along with displays will perform below worldwide GDP growth until 2020, according to the study.
Multitude of applications
Ocean Optics at their stand presents a multitude of applications fpr spectroscopy, including how it can be used to detect product piracy through use by a fuel marker that can reveal whether taxed fuel is being distributed to security applications (which, for instance, are used to detect explosives). Point Grey, one of the camera manufacturers exhibiting at Laser Munich, reports high demand of their new USB3 camera series and expects another double-digit increase in turnover in the current year, after a 15% growth in 2012.
New markets, new tools
Trumpf reported an increase in sales activities in Asia since March, after a reluctant half year. The machine builder confirmed the results of the industry study by stating that market shares of Germany and Western Europe tend to shrink to the favor of Asia. Within their vast product portfolio in the laser segment, the EUV laser with a bandwidth of 13.5 nm stands out as it marks the next generation of semiconductor laser manufacturing. The company also recorded a world record in cutting a panel sheet by an industry scale laser at 145 metres per second. Also, with its product TrueDiode, the company is entering the segment of plastic welding by means of a laser diode.
Diode lasers in general are seen to develop over average, according to experts from the VDMA. However, in another press conference of the German association, it was also pointed out that CO2 lasers with smaller power still have a future, e.g., to replace the hazardous sandblasting in the textile industry or to mark textiles.
Ultra short pulse lasers have reached industrial applications, first industrial femtosecond lasers are reported to be on the market. The rapid development of laser technology was remarked upon by Gerhard Hein, Managing Director of the VDMA Working Committee, who said that the laser output per Euro nowadays is about 10 times higher than only 10 years ago.
In the coming show days, Laser Munich is expected to reveal many more innovations that are coming out of the world of photonics.
Written by Andreas Breyer, Senior Editor. Novus Light Technologies Today