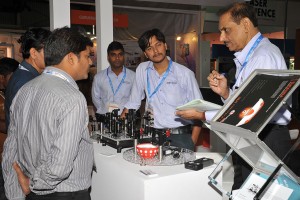 Laser industry and R&D facilitating the 'Make in India' initiative
6404 trade visitors attended the 2017 edition in New Delhi
Successful launch: Additive Manufacturing Pavilion and Conference.
The 6th edition of Laser World of Photonics India came to a successful end at the Pragati Maidan Exhibition Centre, New Delhi, India, after having attracted 6404 trade visitors. Spread over an area of 5500 square meters, 160 exhibitors and 10 additionally represented companies from a total of 16 countries showcased products, recent developments and market trends from the world of lasers and optical technology, as well as their industrial applications.
Since the trade fair was held in New Delhi, it was accessible for application industries such as automotive, heavy engineering, railways, signage and printing, to name a few. Laser World of Photonics India showed that all these industries are increasingly using lasers and optics in order to improve efficiency and quality.
Additive Manufacturing Pavilion and Conference
The Additive Manufacturing Pavilion was staged for the first time during the exhibition to showcase processing and systems for additive manufacturing in industrial applications. At the concurrent Additive Manufacturing Insight Conference, delegates learned about the growing market for Industrial 3D printing.
By 2015, the approximate size of the target manufacturing market for additive manufacturing was $13 trillion while the market share of additive manufacturing was $5 billion. The Boston Consulting Group forecasts that it will grow at a compound annual rate of almost 30% through 2020. According to CNT, additive manufacturing is becoming more popular in India and many companies are working on moving into functional part manufacturing using additive manufacturing compared with just prototyping.
Knowledge platforms — short courses by IEEE Photonics & Laser Safety Forum
The three short courses organized by the Institute of Electrical and Electronics Engineers Photonics (IEEE Photonics) covered different aspects of fiber lasers and applications, nanophotonics and fundamentals of fiber optics and waveguides.
For the second consecutive year since its inception, the Laser Safety Forum taught visitors about the safe use of lasers in the work environment.
The Buyer-Seller-Forum enabled constructive face-to-face meetings to be held between buyers and sellers for potential business relationships. The participants included companies such as Hero MotoCorp, Bhilai Engineering Corporation, Hella India Automotive, LASTEC—DRDO, Sagar Asia, to name a few.
The next Laser World of Photonics India will take place from 26 to 28 September 2018 at the Bangalore International Exhibition Centre (BIEC), Bengaluru.