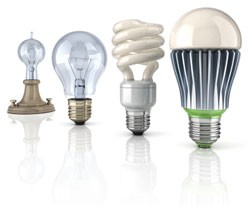 Just as incandescent bulbs are being phased out by governments around the world, the market for LEDs in general lighting is phasing in.
Light-emitting diodes entered the lighting industry with great potential not only from a design perspective, but as energy savers. It took a while to work out some of the technical challenges such as colour consistency, lumen output and lifetime. But little by little these challenges were overcome and this solid-state light source has become standard in many industries ubiquitous to our everyday lives such as cars, computers and televisions.. LEDs in general lighting, however, are the next frontier and industry experts say it's one that will be conquered in the next few years.
Phase out underway
Nations around the world have been phasing out the traditional incandescent bulb with the goal of reducing carbon in the atmosphere and saving energy costs. Brazil and Venezuela were first in 2005, Australia, the European Union and Switzerland began in 2009, Argentina, Canada and Russia in 2012, and Malaysia and the US in 2014. Compact fluorescents (CFLs) have become the new standard, but many users complain of the twisted shape, incompatibility with Edison sockets, the delay in coming to full brightness, and the potential for slight mercury contamination when they are disposed. In comparison to CFLs, LEDs offer many advantages: they turn on instantly, contain no mercury, come in many colours, fit in standard light fixtures, have a longer life and are more energy efficient. So why aren't they already the new standard?
The bottom line
According to "Status of the LED Industry," a report by Yole Développement and European Photonics Industry Consortium (EPIC), cost is the major inhibiting factor to rapid adoption, suggesting that the cost of packaged LEDs needs to be ten times lower to enable massive adoption. In comparing actual prices, a Philips 8-Watt (the equivalent of a 40W incandescent) Soft White LED bulb is currently selling at a home goods retailer for just over $20. A two-pack of EcoSmart 9-Watt (40W) CFLs sells for just under $8. A difference of $16 a bulb is a hard sell. Bringing down the price is necessary to drive the market, and according to the Yole/EPIC report, it can be achieved through manufacturing efficiencies and performance improvement such as increasing wafer size, increasing yield and throughput, and better packaging technologies.
Evidently lighting experts anticipate that these achievements will be accomplished. According to the US Department of Energy's 2011 roadmap for solid-state lighting, process for LED lamps and packaging are expected to drop around 30% from 2010 to 2015 and then another 10 to 15% by 2020. As prices drop, LEDs will garner a greater share of the general lighting market. McKinsey&Company analysts anticipate that LEDs will hold 43% of the market by 2016 and 64% by 2020.
What's next?
As LEDs make further inroads into the general lighting market, the industry will face new challenges. The long lifetime of LEDs will mean that the bulk of the profit from replacement bulbs will be made early. Newcomers may enter the market (many of whom will come from government subsidized Asian manufacturers), but brand name manufacturers will do well because LEDs will be seen as an investment in lighting and consumers will likely go with trusted industry leaders. It's been a long time coming, but solid-state lighting will soon be the standard.
Written by Anne Fischer, Managing Editor, Novus Light Technologies