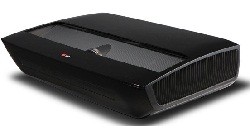 LG Electronics (LG) has launched its 100-inch (254-centimetre) class (i.e., 100 inches diagonally) laser television (TV) featuring both smart TV and digital TV capabilities. A home cinema system, the 100-inch class LG Hecto laser TV is comprised of a special screen and an external ultra short throw (UST) projection unit. The system, which will be demonstrated at the 2013 International Consumer Electronics Show (CES) on 8-11 January in Las Vegas, Nevada (US). It offers full high-definition (HD) 1080-pixel (p) resolution and good contrast because of LG's laser-based illumination system.
Between its picture quality and large screen, LG's 100-inch class laser TV offers a theatre-like experience at home but without the difficult installation required by traditional projector-based systems. A standard projector system requires a considerable distance from the screen to create a large image and typically needs to be installed on the ceiling. However, LG's laser TV allows users to place the lens a mere 22 inches (~56 centimetres) from the screen, while having the flexibility to position it near the floor or fasten it to the ceiling. LG's laser TV offers 1080p full HD resolution and a 1-million-to-1 dynamic contrast ratio, rendering vivid and crisp images that pop out in both dark and light environments.
LG's laser TV has a digital tuner and two 10-watt (W) built-in speakers embedded in the projection unit to support virtual surround sound for a more authentic cinema experience at home. A complete complement of inputs, including three high-definition multimedia interfaces (HDMIs), enable the connection of other source devices. An optical audio output, as well as an RS-232 interface, permits integration into virtually any home-theatre environment. The device itself is 5.7 inches in height. The 100-inch class screen adopts LG's Cinema Screen Design aesthetic, which limits the bezel.
The laser TV supports LG's smart TV platform, which includes a host of features, from built-in wireless fidelity (Wi-Fi), premium content providers, such as Netflix or YouTube and the Smart World app store, to the Magic Remote. The system also allows consumers to manage personal content, such as pictures, home videos and music libraries via universal serial bus (USB) or LG Cloud.
LG's smart TV platform provides a customisable dashboard and smart connectivity features that streamline access to content from compatible smart phones, laptops, storage devices and the Internet. With built-in wireless display (WiDi) and Wi-Fi direct (Miracast, i.e., a peer-to-peer wireless screen cast standard created by the Wi-Fi Alliance), content from any compatible external device can be wirelessly shared with the TV. Navigation of services and external devices via the dashboard is easy with the Magic Remote, which utilises four modes of control: voice, gesture, point and wheel.
The laser-based illumination system uses specialised lamps embedded in the projection unit. This system can run for up to 25,000 hours without replacement, roughly five times longer than mercury (Hg)-based lamps.
Smart TV devices include high-definition televisions (HDTVs), Blu-ray Disc Players and Network Home Theatre Systems. Internet connection and certain subscriptions are required and sold separately. Content and services vary by product and are subject to change without notice, as are designs, features and specifications.