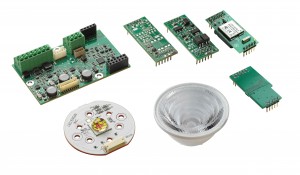 At LIGHTFAIR International 2017, which will take place in Philadelphia (US) 9–11 May, LED Engin will showcase its LuxiTune family of linear dynamic light engines at Booth 1557.
Additions to the family include new form factors for tunable white light sources that extend the high performance and light quality of LuxiTune's products, from directional to area lighting applications. Also on show will be emitters for architainment (architectural and entertainment), horticulture, UV and IR lighting.
Among the innovations that LED Engin will be demonstrating at Lightfair this year is a linear LuxiTune module based on mid-power LEDs that tunes from 2100 K to 6500 K with a CRI of 90 and providing 950 lm/ft. This unit is targeted at linear fixtures with deeper profiles; area lighting applications, such as cove lighting, uplighting, etc., where the emphasis is on the illuminated area; and at 2 x 2 and 2 x 4 fixtures that have efficient light mixing diffusers.
Another module, featuring higher-power LZ4 emitters and tuning from 1800 K to 6500 K with CRI>90 and 1400 lm/ft., is intended for linear fixtures with shallower profiles; architectural linear slots and pendants designed for distinctive appearance of light source (not just the illuminated area); and linear fixtures with higher flux requirements. Both these modules tune along the black body locus (BBL) and match the performance of directional LuxiTune light engines.
For the simplest of directional lighting implementations that can use off-the-shelf reflectors for spots and floods, LED Engin now offers an easy-integration 0-10 V LuxiTune module. This is designed to fit inside fixtures that currently use established fixed CCT white light modules and allows luminaire manufacturers to readily extend their product line with tunable white offerings.