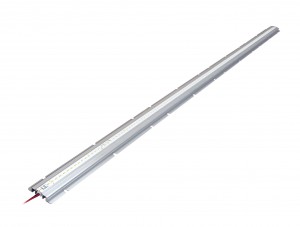 At Lightfair International 2017, Fulham, a supplier of lighting components and electronics for commercial and specialty applications, has unveiled its new line of LinearHO DC LED modules. These LinearHO modules are designed for use in high-bay applications, vapor tights, troffers, and other linear luminaires for environments where high-output lighting is needed in a damp environment.
The LinearHO DC LED modules are high-lumen, high-efficacy units designed for use in class-2 lighting systems and are compatible with constant current and 36 Vf drivers, including most of Fulham's LED drivers and emergency lighting systems.
There are three LinearHO modules: a 22-inch unit that delivers 7000 lumens (up to 1250 mA), a 44-inch unit with 7800 lumens (up to 1400 mA) and a 44-inch unit with 13300 lumens (up to 2400 mA). All three models come with magnets pre-mounted for easy installation and are self thermally managed thanks to the extruded aluminum design. The modules come with a pin connector and provided with a push-in connector harness for easy installation.
Fulham's LinearHO DC LED modules can be a replacement for Fluorescent T5HO used in high bays as well as in troffers. They are designed to be installed within four-foot or eight-foot vapor tights, and there is a diffused lens accessory available that can be snapped on so there are no tools or additional components required. The new modules also meet UL8750 standards, RoHS compliant, and suitable for DLC applications.