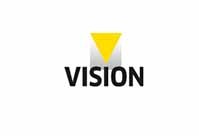 At the VISION/VDMA CEO Round Table on 8 December in Frankfurt (Germany), CEOs from leading machine vision and robotic players presented their views on the future of the machine vision industry and the challenges lying ahead. In addition Messe Stuttgart gave a preview on the next edition of VISION 2016.
According to VDMA statistics, German machine vision turnover is expected to increase by 10% in 2015, and another 8% next year. Growth will be generated in three main areas equally, according to the panelists: First, machine vision will be bought by more and more people as usability becomes easier; second, the technology becomes affordable for customer segments that were out of reach before; and third, the technology has advanced to the degree that new applications become possible today that were not possible only a few years ago. According to Dr. Olaf Munkelt CEO (pictured below) of MVTec Software, the attractiveness of machine vision further increases as technological advance makes it possible to enter new price segments.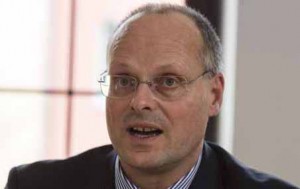 Mark Williamson from Stemmer Imaging summarized the two main trends on the low- and high-end technology range in his video message: "The industry today sees products that are easier to use and therefore are being adopted by less experienced people. At the same time we are seeing new technologies such as hyperspectral imaging that was very, very niche and specialized beginning to come into the mainstream. New solutions and applications for currently unsolvable problems become a reality."
Donato Montanari from Datalogic summarized in his video message his two main driving factors in machine vision as one being the rising quality standards of end consumers who want products without any defects, and the second one being the traceability of a product along the value chain coming from the manufacturer side.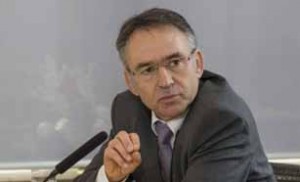 For Heiko Froh, CTO of Vitronic (shown at left) due to the technological advances the claim that machine vision systems perform reliably has become standard.
Instead, issues such as easier integration or shorter ramp-up times become more important. Growing safety needs; the transparent customer and along with that more and more demand to collect data are drivers that Thorsten Wiesinger, CEO of camera maker IDS Imaging identified as industry drivers. In addition, value added penetration of machine vision technology further increases in sectors such as logistics.
None of the panelists in Frankfurt was afraid of the fact that more and more end consumer vision applications are on the market, mainly driven by smart phone and tablet applications. Instead, Thorsten Wiesinger pointed out that a key difference between end consumer products and vision products addressing B2B customer is the fact that spare parts and customer service are available for years after the purchase. On the other hand, it was agreed that handling and usability of machine vision product has to adapt to the environments of tablets and smart phones because these are what trained and untrained vision users are used to dealing with. This, along with intuitive user guidance, offers the opportunity to reduce training, which can save money.
Industry 4.0/Internet of Things
Regarding Industry 4.0/IoT and the role of machine vision herein, all parties agreed that the imaging sector will certainly play a key role. Production and handling processes will become even more flexible e.g., with flexible worktables that are collaborative and in need a much more sophisticated sensor technology than is available today. Show impressions were shared from the panelists about this years' iREX show in Tokyo/Japan, where virtually all robots were equipped with integrated vision systems. "We see that vision technology becomes more and more important especially in the integrated assembly solutions from today and even more from tomorrow. Tomorrow you will not see any robot based flexible automation without vision", said Carsten Busch, ABB Automation in his video statement. Whether machine vision will move into the cloud the panelists were discordant, but agreed that most offline applications already have the opportunity for this; online data however has to be made available without time delay.
VISION trade show project manager Florian Niethammer reported that already 220 exhibitors are registered and 80% of the available show ground is booked already for VISION 2016. "Trend topics such as embedded vision and integrated machine vision will likely to be found 2016", says Niethammer. VISION 2016 takes place from 08-10 November.
Written by Andreas Breyer, Senior Editor, Germany, Novus Light Technologies Today