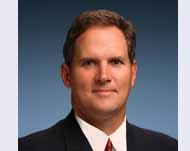 Lumileds, a specialist in light engine technology, announced the appointment of Mark Adams as Lumileds Chief Executive Officer. Mr. Adams most recently served as President of Micron Technology, Inc. a Fortune 200 global manufacturer of advanced memory solutions, from 2012 to 2016.
Between 2008 and 2012, Mr. Adams held the position of Vice President, Worldwide Sales at Micron. He also served in executive roles at Lexar Media, Inc., Creative Labs, Inc. and NCR Corporation. He received his Bachelor of Arts degree in Economics in 1987 from Boston College and his MBA in 1995 from Harvard University. Mr. Adams currently sits on the board of directors at Cadence Design Systems, Inc. and Seagate Technology plc.
Lumileds is a wholly-owned subsidiary of Royal Philips. Philips announced on 12 December, 2016 that it signed an agreement to sell a majority interest in Lumileds to certain funds managed by affiliates of Apollo Global Management, LLC (NYSE: APO). The transaction is expected to be completed in the first half of 2017, subject to customary closing conditions. As required under the signed agreement, Apollo has been appropriately briefed on the appointment of Mark Adams as CEO.