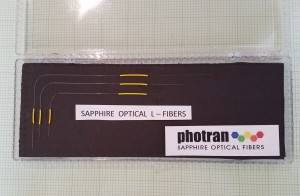 Laser Components offers L-fibers from Photran for measuring temperature gradients. These single-crystal sapphire optical fibers have broad transmission, from the UV to about 3.5 um in the infrared, and their melting point is 2040 C.
Sapphire fibers are used for pyrometry in high temperature systems, such as turbine and internal combustion engines. While sapphire fibers are flexible, Photran has recently been supplying sapphire fibers with a permanent bend, typically a right angle, so they are often called L-fibers. By attaching several fibers along the wall of a furnace or chamber, with the ends bent inwards to collect light from different points, the thermal gradient in the system can be measured. Because sapphire is nearly chemically inert and has such a high melting point it can be used in very reactive and hot environments.
Usually, three or more fibers are built into a furnace or system such that they collect light from different locations. The fibers are usually 425 um in diameter, with a 90-degree bend, but can be custom-designed by changing the bend angle and lengths.
Sapphire fibers are also widely used for transmitting laser radiation for medical and dental systems at the popular Er:YAG 2.94 um wavelength as well as very high power Nd:YAG beams at 1.064 um. Laser Components can supply fibers for these applications with the option of a PFTE buffer and SMA optical connectors.