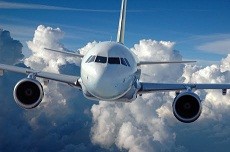 The microelectromechanical systems (MEMS) market for pressure sensors in the high-value military and aerospace segments will enjoy brisk double-digit growth this year, with plenty of room left for future expansion in a broad range of lucrative applications.
Revenue for pressure sensors in both military and civil aerospace applications will reach $35.7 million (USD) by year end, up 20% from $29.7 million last year, according to the IHS iSuppli MEMS Market Brief "Applications for MEMS Pressure Sensing in Military and Aerospace" from information and analytics provider IHS. By 2016, military- and aerospace-related MEMS takings will reach $45.5 million, as shown in the figure below, equivalent to a five-year compound annual growth rate of 9%.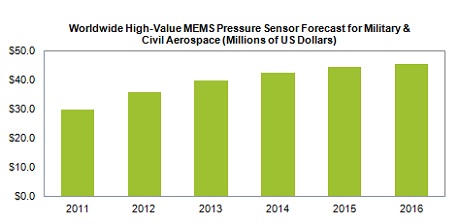 Source: IHS iSuppli Research, December 2012
"While MEMS pressure sensor revenue from both sectors is relatively small and cannot match the scale generated by the much bigger MEMS automotive or consumer segments, steady growth is assured for the next few years, especially because very few other devices can withstand the sort of extreme operating environment in which the sensors are used," said Richard Dixon, PhD, principal analyst for MEMS and sensors at IHS.
The military and aerospace segments are part of the high-value MEMS space, which also includes medical electronics. Here, average selling prices for sensors and actuators are much higher than in other comparable MEMS segments. Overall, the high-value MEMS industry will be worth some $283.6 million this year.
The MEMS military and aerospace segments are projected to thrive despite pressure from the ongoing global economic crisis and a constrained US Defence budget, both of which have led many military and civil aerospace programs to scale back, slow down or even terminate.
The reasons for optimism are twofold. On the military front, the continued focus on long-range air and sea power, as well as on drones, surveillance and reconnaissance or smart weapons, will drive electronic content. The US government's plan to transition to a smaller and smarter force with future reductions affects only troops and personnel on the whole, not weaponry systems.
Meanwhile, on the civil aviation end, a recovery that began last year is still unfolding, thanks to strong demand at the European Aeronautic Defence and Space Company (EADS) for its Airbus A320, and to US-based Boeing for its long-delayed 787 Dreamliner wide-body passenger jet made of carbon composites. Both EADS and Boeing have received orders for more than 2000 large planes, helping commercial aviation to grow 24% this year.
A closer look at the primary military and civil aerospace applications also reveals a lengthy list in which MEMS pressure sensors are used. These include air data systems; environment and cabin pressure; hydraulic systems in airframes; engines and auxiliary power units; and sundry other applications such as doors, oxygen masks, flight tests and structural monitoring.
Overall, MEMS sensors must withstand high vibration, high G-force impact and acceleration, extreme temperature and high pressure in the inhospitable environment that characterises military and aerospace applications. In addition, the sensors must deliver flawless performance amid such challenging conditions with high accuracy, low drift and long-term stability. Doing all this successfully in small package dimensions and low weight explains why MEMS pressure sensors are able to dominate in military and aerospace applications.