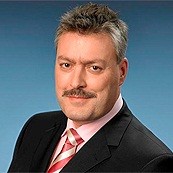 The Board of Stakeholders of the European Technology Platform, Photonics21, has elected Dr. Michael Mertin, chief executive officer of Jenoptik AG as its new president. In this function he will lead the photonics community during a decisive phase regarding the development of optical technologies.
Dr. Mertin received his physics degree from the RWTH Aachen and his PhD from the Fraunhofer Institute for Lasertechnology. In 1996 he moved to industry. Over the next 10 years he held several senior management positions at Carl Zeiss. He moved to Jenoptik in 2007.
From 2014 forward, current European research and innovation programs will be combined in a new EU Commission framework, Horizon 2020, among them those of the photonics industry. Photonics is considered to have a key impact on the development of other sectors. That is why the EU Commission defined photonics in 2009 as one of five key enabling technologies with great growth potential.
In December 2005 the European Technology Platform, Photonics21, was set up as an industry-driven platform to unify the community in the area of optical technologies. Today, about 2000 representatives of industry and science from most of the European countries have joined together to further advance Europe's position in optical technologies in the 21st century.