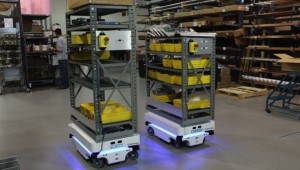 Mobile Industrial Robots (MiR) has announced the opening of a new office in San Diego, California, the second US office for the Denmark-based robotics manufacturer. The office, led by area sales manager Nicholas Temple, will better enable MiR to support distributors and current customers of its autonomous mobile robots (AMRs) while meeting increasing demand within the Western half of the United States as well as Central and South America.
Founded in 2013, MiR opened its first international office in New York in 2016, with Mullen helping to educate US companies on the benefits of AMRs over legacy automated guided vehicles (AGVs), which require expensive and inflexible installation of sensors or magnets into factor floors for guidance. MiR's flagship product — the MiR100 and its more powerful MiR200, announced in 2017 — are already installed in more than 40 countries by companies such as Airbus, Flex, Honeywell, Hitachi and Danone. As announced in January, worldwide sales grew by 300% from 2016 to 2017, primarily due to multinational companies returning for larger fleets after testing and analyzing the positive results of single MiR robots.
To meet the expected growth within the Western region, MiR will hire at least six new sales and technical support staff to work out of the San Diego office, more than doubling the number of current US employees.