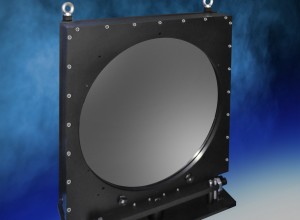 Optical Surfaces has produced a 600-mm diameter mounted reference flat mirror that will enable Thales to perform the alignment of the laser beam expanders implemented in the High Peak Power Laser System for the ELI-NP project in Romania.
Optical Surfaces produced the silver coated, 2-axis gimbal mounted reference flat with a surface accuracy of better than 20 nm rms and a surface quality of 40/20 scratch/dig.
The optimized beam expanders will be used to produce a precisely expanded laser beam that will enable smaller laser spot sizes to be achieved when used in combination with additional focusing optics.
The Extreme Light Infrastructure for Nuclear Physics (ELI-NP) project aims to develop a unique and high technology research center in Magurele (Romania), including the most powerful laser system ever achieved: a 2 x 10 PW laser system.