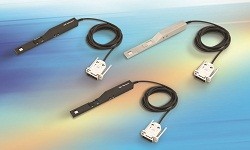 Newport Corporation launches the 918D-ST series wand photodiode sensors. The new design features a thin-profile wand detector in a sturdy metal housing with integrated calibration-data storage and an automatic OD3 attenuator on/off position sensor. The new 918D-ST series features built-in temperature-sensing electronics to compensate for temperature variation. The 918D-ST-IR wand operates from 780 nanometres (nm) to 1800nm; the 918D-ST-SL functions from 400nm to 1100nm; and the 918D-ST-UV runs from 200nm to 1100nm.
A large-area 10 millimetre (mm) × 10mm silicon (Si), ultraviolet (UV) enhanced Si, or germanium (Ge) photo-detector combines with an ergonomic case design, making the new wand photodiodes suitable for applications in laser and other optical power measurements where access or space is limited. Newport's calibration system offers good value for detectors with small calibration uncertainty. When used with select advanced power meter models from Newport, the new 918D-ST series detectors enable the user to change the position of the attenuator without having to reconfigure the power meter and permit accurate measurements by auto-adjusting the responsivity of the photodiode.
The new wand detectors are available for shipping now with a US National Institute of Standards and Technology (NIST)-traced calibration report that details individual detector responsivity, measured with and without attenuator.