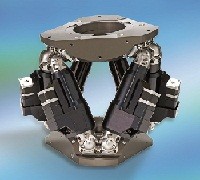 Newport Corporation introduces the HXP1000 Hexapod, a high-load, 6-axis-parallel kinematic positioning system that can accommodate a centred load of 450 kilograms, or kg (~990 pounds, or lbs) or a load of 200kg (~440 lbs) in any orientation. The large hexapod is extraordinarily compact for its load capacity, measuring 550 millimetres, or mm (~21.7 inches, or in.) diameter and 395mm (~15.6 in.) at its nominal height. Key features include long travel ranges, fast speeds, high stiffness and stability and two software-settable pivot points.
The HXP1000 Hexapod is suitable for motion-positioning tasks that require up to 6° of motion and flexible coordinate systems or pivot points. Applications include optics and satellite assembly and testing, wafer alignment and bonding, x-Ray diffraction, biotechnology, surgery, materials analysis, astronomy, micromachining/micro-manipulation, sensor calibration and simulation.
The high quality actuators and the backlash-free cardan joints (i.e., universal joints) enhance both the repeatability and the positioning performance of the new hexapod. The HXP1000 system has no moving cables and no accumulation of motion errors, making it reliable in advanced positioning applications. Customised configurations are also available.