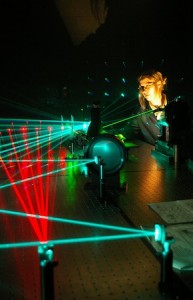 Baker College of Flint has received nearly $200,000 in a grant from the National Science Foundation (NSF) that will launch the state's first photonics and laser technology associate degree program starting next month.
The NSF award allocates $199,757 over three years to help create Baker's photonics program, advance and enlarge Baker's photonics lab, educate the first group of students, and develop outreach programs that encourage high school students to consider careers in photonics. The result will be a model for other colleges interested in photonics nationwide.
The grant is part of the NSF Advanced Technological Education (ATE) program that supports efforts to improve the knowledge and skills of technicians who work in high technology fields.
According to the National Center for Optics and Photonics Education (OP-TEC), the approximate 30 colleges in the US that offer photonics instruction are estimated to graduate 250 to 300 technicians annually. This is about one-third of the industry's projected demand of 800 new photonics technicians each year through 2017.
This is the first NSF grant awarded to Baker College of Flint. Only slightly more than one in four proposals for NSF grants are approved for 2,000 educational, business, science and research organizations each year.
In Michigan, Mi-Light, a photonics cluster, was formed December 2012 to support the state's photonics-related businesses with the goal of growing the state's talent pool to expand the photonics industry and stimulate innovation.
Establishing a photonics technician training program in the state was one of the primary reasons that Richard Kurtz, CEO and President of Advanced Photonix (API), became a founding board member of Mi-Light. API provides opto-electronic solutions and terahertz sensors for process and quality control worldwide, and employs 65 in Ann Arbor and 60 in its manufacturing plant in Camarillo, Calif. near Los Angeles.
Mike Klos, General Manager of IPG Midwest Operations, said his company has found it difficult to find qualified people for many years. IPG sells lasers for automotive and other manufacturing tools. Forbes just named IPG Photonics the number-five fastest growing tech company, behind LinkedIn, Facebook, Apple and 3D-printer-manufacturer 3D Systems.
Bill Bowman, Sales Engineer at Rigaku Innovative Technologies (RIT), predicts rapid growth for the photonics industry. RITemploys more than 1,000 people worldwide in the manufacture and support of its analytical equipment.
The grant also enables Baker College to obtain additional lab equipment and increase the lab's capacity to accommodate larger classes. The lab recently received a donation by IMRA America of Ann Arbor, a global company that develops ultra-fast fiber laser technologies for commercial applications.
Dan Hull, OP-TEC Executive Director, said that starting salaries for graduates of two-year associate degree photonics programs range from $40,000 to $50,000. Recent graduates have had an average of three to four job offers.
The two-year Baker associate program will prepare students to build, test, modify, install, operate, calibrate, maintain and repair laser and electro-optic devices and systems.