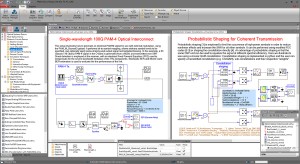 VPIphotonics Design Suite provides access to professional application-specific simulation and design tools for optical components and transmission systems with common usability, design process and data analysis capabilities.
Version 9.9 comes with enhancements of the user interface and tools operation, as well as advances in simulation capabilities, such as new design and analysis tools for coherent M-QAM and direct-detection PAM-M systems, new and enhanced DSP and coding functionalities, extended library of PIC elements and instrumentations, to continuously support VPIphotonics' existing and addressing new applications and markets.
The simulation tool suite provides access to over 850 readyto-run demonstrations, including new ones illustrating the novel functions and applications available in Version 9.9, such as probabilistic shaping, PAM-4 for interconnects, multimode VCSEL transmission, nonlinear Volterra filtering. VPIphotonics' software solutions are utilized for 20+ years by hundreds of commercial companies and educational institutions for winning and successfully performing a diversity of research and design projects.
VPIphotonics Design Suite Version 9.9 can be seen at OFC 2018, booth 4513.
A few of the many features in VPIphotonics Design Suite 9.9:
Probabilistically-shaped M-QAM with MaxwellBoltzmann distribution of constellation amplitudes; supports user-defined non-integer bit-loading
Simplified generation of high-multilevel M-QAM (such as 4096-QAM) signals from library
Pseudo-random symbol sequence generator of adjustable alphabet length for multi-level formats
Digital Volterra series filtering for emulating frequencydependent nonlinearities of electrical components
Enhanced TD-MIMO equalizer in Multi-Modulus Algorithm (MMA) mode for faster convergence
Maximum-Likelihood (ML) carrier phase recovery (CPR) algorithm for decision-directed or data-aided operation
Differential encoding to mitigation cycle-slips from library for common M-QAM formats and user-definable for arbitrary rotationally-symmetric formats
Macros enabling automated configuration of photonic circuits schematics for time- and frequency-domain simulations
Instrumentation modules and Macros enabling automated characterization of passive sub-circuits and actives (lasers, SOAs, optical modulators)
Faster time-domain simulations for certain passive sub-circuits and dynamically tunable modulator
Simplified models for passive components (waveguides, star couplers, MMIs) to enable fast initial circuit design before PIC technology is chosen
Efficient utilization of multiple GPUs for running GPU-assisted simulations in parallel or during parameter sweeps executed in multitasking mode