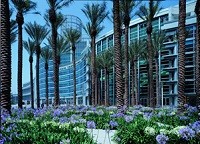 The Optical Fibre Communication Conference and Exposition/National Fibre Optic Engineers Conference (OFC/NFOEC) 2013 will take place on 17-21 March (exhibits open 19-21 March) at the Anaheim Convention Centre in Anaheim, California (US).
This year's conference, with more than 12,000 attendees expected, more than 550 exhibiting companies (45% based outside the US) and more than 800 technical and business presentations, will host the entire scope of optical communications, providing technical programming, exhibits and other activities for all audiences from systems and components manufacturers to service providers, carriers and enterprise.
Technical and business programming highlights include: OFC/NFOEC Plenary and Awards Session on Tuesday, 19 March, 8:00 a.m. to 11:00 a.m. and the following industry leaders:
• Caio Bonilha, president and chief executive officer (CEO) of Telebras in Brazil will speak on the Telebras National Backbone: Deployment Challenges.
• Nick McKeown, professor of Electrical Engineering and Computer Science at Stanford University in California (US) will present on Software-Defined Transport Networks.
• Brian Protiva, CEO of ADVA Optical Networking in Germany will discuss Capitalising on Network Transformation in the Age of Programmable, Multi-Layer Infrastructures.
Hot topics to be covered during the two conferences include cloud and datacenter networking, SDN, optical and wireless convergence, 100G/400G optimisation, photonic integration and more.