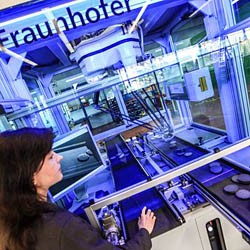 Traditionally, the annual summer press conference of the Vision trade show takes place on the premises of a vision company that exhibits at the show a few months later. This year, the location was almost within eyeshot of the trade show halls, at robomotion, an emerging system integrator with innovative vision and robotic packaging machinery primarily active in the food and pharmaceutical industries. Thomas Walter from the Messe Stuttgart gave an outlook to the upcoming Vision show from 6-8 November, which celebrates its 25th anniversary this year under the slogan "One Vision" and expects some 360 exhibitors. This would mark another increase compared to the years before. For the first time, all exhibitors will show their products in one common hall, as the Vision moves from the halls four and six under one roof to the biggest hall on the showground. Walter says that four trends mark the development of Vision, namely a growing number of visitors in general and as well end users as visitors, a growing focus on non-industrial applications and an increased participation of foreign exhibitors.
Positive industry numbers
Dr. Olaf Munkelt, Chairman of machine vision at the German VDMA, presented 2011 record numbers for the German machine vision industry only, since the European Machine Vision Association parted ways with VDMA in the course of this year. Total German sales grew by 20% last year turnover-wise to a record sales number of 1,511 million Euros. Unlike earlier predictions of market experts, complex machine vision systems grew over average last year, which is explained by the ever increasing demands at vision systems, which only complex systems are able to meet. The number of employees grew by 12%, and here Munkelt pointed out that the industry has to address the growing skill shortage in Germany in order to avoid a bottleneck for future growth. A cross-national VDMA quick survey revealed that for 2012 most companies forecast an increase in turnover in the range of 5-10%.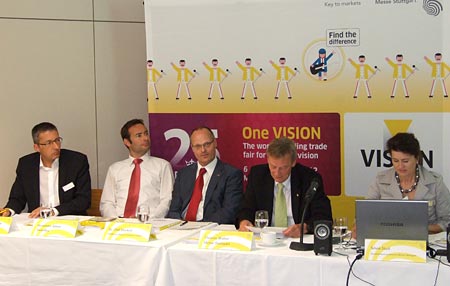 Vision and robotics grow together
The hosting company, robomotion, together with its project partner and 3D vision sensor specialist SmartRay then did a live presentation of their prototype of the research project AdaptSmart (see photo). The research project aims to develop an adaptive system platform for applications in robotics, automation and handling technology, which enables the widespread use of smart cameras in different industry sectors. Within the project a new 3D camera is being designed based on a powerful embedded PC system and implemented a prototype. "At the core of the project, sensor technology and robotics further grow together", says Dr. Andreas Wolf, Managing Director at robomotion. The first trade fair presentation of the project is planned at Vision 2012.
Written by Andreas Breyer, Senior Editor, Germany, Novus Light Technologies