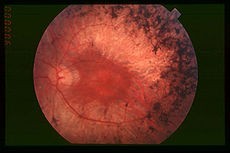 RetroSense Therapeutics, a privately-held, clinical-stage biopharmaceutical company,has secured $6 million in a Series B financing to further investigate the use of gene therapy and optogenetics to restore vision. The investment syndicate includes existing investors, including BlueWater Angels, and new investors RBV Capital, ExSight Capital, and Santen Pharmaceutical Co., Ltd.
Earlier in 2015, RetroSense Therapeutics closed a $7 million Series A financing, bringing total Series A and Series B investment to $13 million. Total net proceeds should enable completion of the Company's recently initiated Phase I/II clinical study for its lead compound, RST-001 for the treatment of Retinitis Pigmentosa, and also support the further development of a second promising gene therapy candidate. Recruitment for the RST-001 Phase I/II clinical study is underway at Retina Foundation of the Southwest.
RST-001 is being developed as a first-in-class gene therapy application of optogenetics designed to restore vision to those affected by retinal degenerative conditions.
RetroSense Therapeutics is a privately-held biotechnology company developing life-enhancing gene therapies designed to restore vision in patients suffering from blindness due to retinitis pigmentosa (RP) and advanced dry age-related macular degeneration (advanced dry-AMD). The Company's approach to using optogenetics in vision restoration is based on proprietary research conducted at Wayne State University and Massachusetts General Hospital. RetroSense has worldwide exclusive rights to the relevant intellectual property from both institutions.