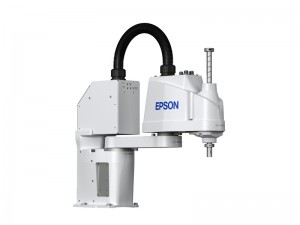 Today at Pack Expo, Epson Robots, the #1 SCARA robot manufacturer in the world, announced it is expanding its line of industrial SCARA robots with the new T-Series All-in-One robots with built-in controller, a new technology feature that reduces space requirements and simplifies setup. The company reports that the T3, the first product in the T-Series, offers a cost-effective and simple-to-integrate and install automation solution for simple applications such as pick and place, assembly, parts handling and dispensing applications in industries ranging from automotive and medical development, to lab automation, consumer electronics, electronic components and industrial. It is available now and will be showcased at Pack Expo, Las Vegas, NV, Sep. 25-27 at the Las Vegas Convention Center, booth S-6372.
The T3 is a next generation technology robot featuring a built-in controller (conveniently housed in the robot's base), runs at 110 V or 220 V and requires no battery, reducing factory downtime for maintenance. This compact, lightweight, space-saving robot helps to significantly reduce the total cost of installation and integration for factory automation projects, is ideal for simple applications, and is more cost-effective than current solutions, which use multi-axis linear slides.
Key features
Efficient operation — fits seamlessly into an automation workflow; requires less time and money for system integration than most other solutions
Easy to install — installs in minutes, unlike complex linear slide-based systems
Integrated vision guidance option — designed specifically for robot guidance; makes it easy to automate simple applications when vision is required
Built-in controller — saves critical workspace with the controller conveniently housed in the robot's base
Wide variety of integrated options — Ethernet/IP, EtherCAT, DeviceNet, PROFIBUS, PROFINET, and CC-Link fieldbus interfaces are all supported, as well as GUI Builder and other integrated options to help reduce total development time
Small and lightweight — All-in-One solution; takes up less space than linear-slide solutions, while providing a large work envelope
No battery required for encoder — minimizes downtime and reduces overall cost of ownership
Epson's existing lineup of 3kg payload industrial SCARA robots includes the G-Series, RS-Series, and LS-Series.