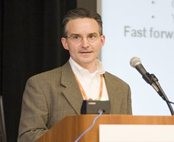 The OSA Foundation (OSAF) today announced the successful completion of the Paul A. Bonenfant Memorial Scholarship fundraising campaign, surpassing the total fundraising goal of $190,000 USD. The need-based scholarship will enable undergraduate students enrolled in engineering or physical science programs to attend semester-abroad programs offered through their colleges or universities.
Established in 2011, the scholarship honours the late optical communications expert and Morgan Keegan analyst Paul Bonenfant, a dedicated member of the technical program committee for the Optical Fibre Communications Conference and Exposition/National Fibre Optic Engineers Conference (OFC/NFOEC) and speaker at OFC/NFOEC for many years. Bonenfant spent his career in various capacities from engineering to investment banking and recognised the critical need for international experiences to promote global engagement and collaboration and expand an individual's total worldview.
The fundraising campaign was bolstered by an anonymous donor who matched donations up to $62,000, as well as a series of 5K runs organised by Kelly Skelton, son of Lightwave magazine staffer Kathleen Skelton, along with telecom marketing agency Pacific Bridge Marketing and OSA Foundation staff.
"We're incredibly grateful to our industry peers, corporate donors, and individual supporters that have contributed to the success of this campaign," said Michael Morris, OSA Foundation Board chair. "The Bonenfant Scholarship will allow the next generation of researchers, engineers and physicists to gain important international experience and connect with industry leaders in the global optics community as they prepare for their professional careers."
The first scholarship will be awarded at OFC/NFOEC 2013 in Anaheim, California (US). For more information about the Bonenfant Scholarship and to make a secure online donation, visit the OSA Foundation website. Attendees registering for OFC/NFOEC 2013 also have the option of including a donation to the scholarship during the online registration process.