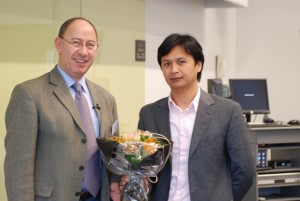 Peter John Rodrigo, a researcher at the Technical University of Denmark, Fotonik Optical Sensor Group, has received the highest prize from the Danish Optical Society (DOPS) for his current work with lasers and laser sensors.
Rodrigo received the prestigious 2012 DOPS Prize for his work on wind LiDAR (Light Detection And Ranging) and optical trapping. According to DOPS website, the prize is given "to young researchers, development engineer or other person who has made an extraordinary effort in the optical field."
Rodrigo's wind lidar can remotely measure wind direction and velocity accurately. DTU Fotonik is now commercializing the technology developed from his study through a start-up company, Windar Photonics A/S.
Rodrigo earned bachelor's and master's degree at the National Institute of Physics, University of the Philippines Diliman, and his doctorate degree from the prestigious Niels Bohr Institute of the University of Copenhagen.