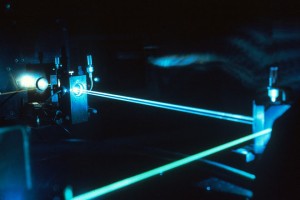 Xmark Media, the organizers of Photonex Europe, the UK's upcoming photonics event, has colocated the event with the Enlighten Conference, which features 15 programs.
Photonex Europe will be held on Wednesday and Thursday, 11–12 October 2017, as part of the Enlighten Conference at the Ricoh Arena in Coventry, England.
The Enlighten Conference is headlined by IEEE High Power Diode Lasers & Systems, the 9th in the series. Keynote presentations will be given by Dr Klaus Kleine, Coherent (US) and Dr Masao Kawaguchi, Panasonic (Japan).
This year's conference will host a joint session with a new meeting on metal power-based additive manufacturing. The meeting is designed to provide a platform for technical discussion of areas related to metal powder-based AM processes, to encourage better pan-European communication and co-operation between leading and upcoming academics and industrialists in the field. The program includes speakers from China, Germany, Italy and closer to home from universities and companies, including University of Nottingham, Manufacturing Technology Centre (MTC) and Nottingham start-up Added Scientific.
Optical Engineering and Design on Wednesday will feature a Keynote presentation by Yan Cornil of Light Tec SARL (France), who will be talking about "Desensitization of optical systems during the optimization process." This meeting will be particularly interesting for optical designers who need to understand "Bridging the gap between optical technology and manufacturing capability," a talk by precision engineering consultant Colin Williams. Other subjects include 3D laser writing inside transparent materials, phase-change materials for improved color and fast switching in solid-state reflective displays, modeling of ultra-fast photodiodes and Professor Cliff Jones, University of Leeds, will speak about "Optimization of liquid crystals for switchable contact lenses."
Rounding off the day will be a workshop by COMSOL: Simulating Photonics with COMSOL Multiphysics.
Other meetings include: Graphene & Emerging 2D Materials, an H2020 Photonics - UK Information & Brokerage Event, Hyperspectral Imaging, Optical Metrology for Manufacturing, Surface Analysis, Thin Film and Coating Technologies for Science & Industry and Vision & Imaging Programme.
Conference bridges the worlds of academia and industry
The specific meetings of the Enlighten Conference have been created taking into the consideration the co-location with the Photonex Europe exhibition.
One meeting that is set up expressly with the intention of giving industry the opportunity to discover how academia can assist industry to benefit from silicon photonics in new devices and systems is a new silicon photonics/compound semiconductor meeting, called Silicon Photonics adoption in UKIndustry.
This meeting is led by a team from the Optoelectronics Research Centre (University of Southampton), led by Prof Graham Reed, with the assistance of Professor Michael Lebby, Lightwave Logic, Colorado (US), Dr Wyn Meredith, Compound Semiconductor Centre (CSC), Cardiff and Professor Alwyn Seeds, University College London, and includes contributions from key research groups around the UK and companies currently adopting silicon photonics technologies. It features several speakers, including Dr Andrew Rickman OBE, CEO and Chairman of Rockley Photonics and Prof Diana Huffaker, Director of Institute for Compound Semiconductors.
Training and tutorials by the exhibiting companies
Lasers are one of the major subjects of interest at the exhibition this year, and to benefit visitors to the event there will be Laser Safety Training — the Fundamentals, organized by exhibitor Pro-Lite, presented by Hans Christian Meedt of Laservision.
The Photonics Showcase, application tutorials and innovation program includes eight technology tutorials and two innovation-type presentations. Firstly, you can find out about the National Centre for Healthcare Photonics and secondly, think about attending "The Future Photonics Hub Innovation Fund – Q & A session," at the start of the program on Wednesday.
The Photonex Europe exhibition
The free-to-use Networking Hub is set up for attendees wishing to meet with colleagues. Photonex Europe is UK event that connects the supply chain with the photonics and light technologies user communities in industry and research throughout Europe.