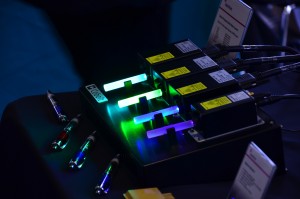 Xmark Media has chosen a new venue for their annual Scotland event. Photonex will take place in the centrally located South Hall at the University of Edinburgh on Thursday, 14 June 2018.
The exhibition, an event for people working with photonics and light technologies, provides scientists to explore the latest equipment on the market. Companies demonstrating their latest solutions include Andor, Hamamatsu, Princeton Instruments and Thorlabs.
The co-located morning conference is titled "Advances in photonic techniques for biomedical sciences." Speakers from across the UK will explore recent developments and uses of photonics in the life sciences as well as future clinical applications.
Discussing such applications will be Dr Mike Tanner (Heriot-Watt University), who will discuss "Clinical applications of single photon detection including locating medical devices deep within tissue" and Dr Marcel Schubert (University of St Andrews) on "Ultra-lightweight and super-sensitive: Novel biomedical applications of flexible membrane lasers and bio-integrated microlasers."
Keynote speaker is Prof Paula Borri (University of Cardiff), who in 2004 began a new area of research in biophotonics at the interface between life and physical sciences. As part of the education programm, Borri's presentation is entitled "Imaging and tracking single plasmonic nanoparticles in 3D background-free with four-wave mixing interferometry."
New for 2018, the afternoon meeting "Quantum Imaging — breaking new ground," organized by Technology Scotland and QuantIC, will examine the industry developments being carried out in Scotland and identify new opportunities. Participating will be companies working with and applying this technology to develop new instruments, including, Horiba Scientific, Pxyl, UniKLasers and Fraunhofer CAP.