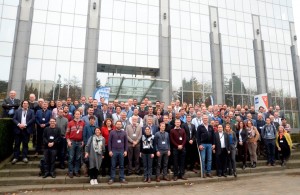 Aiming to support over 100 new product innovations based on photonics over the next 4 years, ACTPHAST 4.0 will leverage the R&I spend by the involved companies by 2.8 times, generate more than €700 million in increased company revenues and create 750 new jobs all across Europe.
The "one-stop-shop" for photonics innovation support, ACTPHAST 4.0, centrally coordinated by the Vrije Universiteit Brussel (University of Brussels), has secured €10 million to help drive the digitization of European industry following the success of its predecessor, ACTPHAST.
Short for "Accelerating photonics innovation for SME's: a one stop-shop-incubator," ACTPHAST 4.0 provides companies that are first-time users who would not normally use optics or photonics in their products, as well as those already established within the photonics industry, with prototyping solutions, tailoring their new product innovation to be fit for purpose in the modern digital economy.
While photonics technologies are essential to new Industry 4.0 applications like the Internet of Things (IoT), Factories of the Future (FoF), smart cities, autonomous vehicles, and with the need for sensors, optical fibers, special lenses, LEDs, and quantum technology, ACTPHAST 4.0 can deliver these highly specialized technologies and the critical expertise for their deployment that are often out of reach to a small to medium-sized businesses.
ACTPHAST 4.0 will continue the work of its predecessor, which supported more than 100 companies and created over 700 new jobs since 2013, by providing advanced light-based solutions to knowledge-intensive companies, such as Holoxica (medical hologram imaging), LazerSport (Augmented Reality bike helmets) and TOMRA (food sorting machines).
Looking to go further by creating 750 jobs over the next four years as a direct result of their intervention, ACTPHAST 4.0 will make the transition from its current state as an access center for photonics technologies to a full-service photonics innovation incubator for European SMEs.
An incubator for rapid prototyping
ACTPHAST 4.0 differs from its predecessor in that it is an incubator for rapid prototyping of an already developed product concept that offers parallel progression of financing and business go-to-market planning.
Breaking down barriers
The ACTPHAST 4.0 model is unique in a European context in that it is set up to provide a single entry point into a fully integrated prototyping supply chain across the broad spectrum of photonics technology platforms.
In order to develop photonic-enhanced products, a complex process requiring one or more expensive technology supply chains, including design, prototyping, characterization, manufacturing and testing, packaging and integration needs to be followed. Access to scaling-up facilities, such as pilot lines, or companies who will take up the low-cost mass manufacturing of the new product can be difficult to find.
ACTPHAST makes this technology and expertise available in a subsidized format to any European company — with a particular emphasis on SMEs — for the purposes of collaborating on photonics innovation projects which will have a substantial impact on the companies' business growth in terms of new revenues and job creation.
A successful SME having gone through the ACTPHAST process is Holoxia, a hi-tech company specializing in holographic 3D static images and video displays.