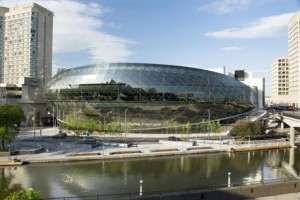 The Conferium for Photonics North Conference will take place at the Convention Centre in Ottawa (Canada) 3 to 5 June 2013. Early bird registration begins 3 April.
Speaking on the topic, "Photonic integration: moving beyond telecom and datacom" will be plenary speaker,Professor Roel Baets of Ghent University, imec, Belgium. Plenary speaker, Dr. Tom Hausken of The Optical Society and the Optoelectronics Industry Development Association, will provide an update on the North American photonics market and the US National Photonics Initiative.
Conference co-chairs are Jacques Albert, Canada Research Chair in Advanced Photonic Components, Carleton University and Douglas James, Chair, Board of Directors, Canadian Photonics Industry Consortium (CPIC).
Main sessions will cover biomedical optics, green photonics and energy, optical communications, optoelectronics and integrated circuits, photonic materials and nonlinear optics, photonic sensors and more.