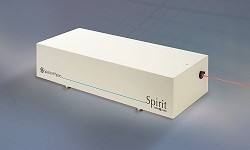 Spectra-Physics, a Newport Corporation brand, introduces Spirit 8 W, an industrial-grade femtosecond (fs) laser for micromachining applications. The new laser delivers high average power with short 400fs pulses for femtosecond micromachining, without unwanted heat damage to the processed material. These features make the laser suitable for manufacturing medical devices, flat-panel displays and semiconductors.
The Spirit laser provides high average power of more than 8 watts (W) in the infrared (IR) at 1040 nanometres (nm) with a second harmonic option for generating green femtosecond pulses. The laser delivers short 400fs pulse widths with pulse energies of more than 40 micro Joules (µJ) and is adjustable via computer over a range of repetition rates from a single shot up to 1 megahertz (MHz). The Spirit is automated and has good beam characteristics with a diffraction-limited fundamental transverse electromagnetic (TEM00) mode.
The Spirit 8 W laser will be featured at SPIE Photonics West 2013 on 5-7 February at the Moscone Centre (booth 1301) in San Francisco, California (US).