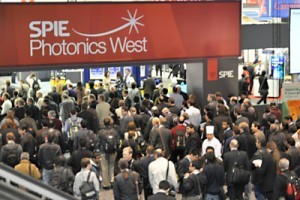 While much of the US was battling snow and winter weather, the sun was shining for the opening of Photonics West, the largest North American gathering for those in the light technologies industries. Amid bustling halls, a few technologies and new products stood out.
Solid-state lighting has come a long way, as evidenced in the Lumex booth where they're showing the new high-voltage, low-current TitanBright LED. It provides up to 45% brighter light output than alternative light sources and uses 20% of the power. Jeff Oliveros, Director of Sales, said that the fact that no heat sink is required makes it easier for designers. TritanBright LEDs are found in automotive lighting, solar applications, surgical lighting and more.
Video interfaces are Pleora's specialty, and here at Photonics West they are showing a new USB3 Vision video interface, frame grabbers and embedded hardware. The trend is clearly with off-the-shelf, standards-based products and Pleora supports them all—GigE, Genicam as well as USB3 and wireless interfaces. Pleora's solutions are found in medical imaging, factory automation, military and other vision applications.
Using a microwave chemical wafer deposition system Element Six is growing single-crystal diamonds with very high purity for use in optical components in thin-disk systems. The company recently announced a partnership with the University of Strathclyde to develop the first ever continuous wave laser and tunable diamond Raman lasers.
Raptor has a range of cameras on display including its new CCD cameras for fluorescent applications. The Kingfisher cameras were developed using Sony ExView Hole Accumulation Diode (HAD) II sensor technology. They are also showing EMCCD cameras for special low-light applications.
Silicon Photonics is definitely an area that's garnering much attention in the industry and the session that offered an industry perspective on this topic was very well attended. Moderated by SPIE's Peter Hallett, the panel was made up of Peter De Dobbelaere of Luxtera, Ashok Krishnamoorthy of Oracle, Vladimir Kozlov of Lightcounting and Stan Swirhun of Intel. While all expressed a commitment to the development of silicon photonics, much of the industry is resisting entry in what is considered a tough and risky market.
Green Photonics is another hot topic and it was explored in a session devoted to photovoltaics. Moderated by Stephen Eglash of the Energy and Environment Affiliates Program at Stanford University, the panel included Homer Antoniadis of Dupont Photovoltaic Solutions, Raffi Garabedian of First Solar and Martin Green of the Australian Centre for Advanced Photovoltaics at the University of New South Wales. The concensus was that solar technology has been embraced around the world—it works, it lasts for 25 or 30 years with little degradation, and continual advances are being made that are bringing down costs and improving efficiency.
Novus Light Technologies Today will continue to report live throughout the week from Photonics West 2014.
Written by Anne Fischer, Managing Editor, Novus Light Technologies Today.