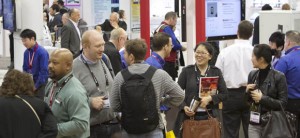 This week the photonics industry is well represented at Photonics West 2016 in San Francisco, California (US), with more than 1250 companies exhibiting products and services from lasers to cameras to coatings, lenses and more. 20,000 people will visit Photonics West 2016, getting a first-hand look at the plethora of products and applications.
Here is a quick look at the myriad of products on display across the exhibition floor:
Raptor's Eagle XO X-Ray High Energy Camera is on display along with other X-Ray High Energy cameras. Booth 515
Teledyne Dalsa is demonstrating advanced MEMS capabilities and developments in low-cost visible and LWIR cameras. Booth 2600
Excelitas is highlighting several high-performance optoelectronics products. Booth 1323
Pleora will be discussing its new GigE Vision over NBASE-T platform, along with its full suite of GigE and USB 3.0 interface solutions. Booth 5643
Deposition Sciences (DSI) is displaying an array of optical thin-film coatings. Booth 730
Trumpf highlights its latest innovations in laser technology. Booth 1600
Empire Precision Plastics is featuring its molded and diamond-turned polymer lenses. Booth 633
Point Grey will have on display Chameleon3, Blackfly, Grasshopper cameras and more. Booth 2811
Rofin, along with Lee Laser and LASAG, is showcasing spectrum of laser technology. Booth 923
Edmund Optics introduces 18 new Techspec Fluorescence Bandpass Filters in six new wavelengths. Booth 1612
Crystal IS is showing its latest Optan product, a deep UV LED in a TO-29 package with a flat window.. Booth 4061
Ocean Optics expands its Flame spectrometer family with Flame-NIR, delivering near-infrared spectroscopy in a compact instrument.. Booth 1717
Lumentum announces the Ultrafast Laser Picoblade 2. Booth 2017
Mirrorcle Technologies introduces larger diameter MEMS mirror of up to 5.0 mm in diameter. Booth 5660
Allied Vision is showcasing its latest Mako CMOS GigE and USB cameras, as well as Goldeye short-wave infrared (SWIR) cameras equipped with Camera Link. Booth 5430
LightPath Technologies has a range of products on display that show the company's precision glass molding capabilities. Booth 722
Xenics is showing its next-generation Bobcat-320 SWIR camera series targeted at hyperspectral imaging, food sorting, waste recycling and more. Booth 4441
Route des Lasers, a competitive photonics cluster in France, is hosting next-generation and first-ever products launched by its members. Booth French Pavilion, 1123-A, 1223-F, 1223-J.
Toptica displays ultra-stable diode lasers and femtosecond fiber lasers as well as frequency combs and terahertz systems. Booth 932, 1023
Sierra-Olympic Technologies introduces a 640 x 512 pixel format visible-shortwave infrared (SWIR) video camera. Booth 5340
Basler highlights new ace, dart and pulse camera models as well as the Basler beat, a time of flight camera, and lenses for these cameras. Booth 5547
Framos is showcasing its portfolio of image processing components, system solutions and engineering services. Booth 5636
Jenoptik presents product highlights of its Optical Systems and Healthcare & Industry divisions.. Booth 1823
Pleora's iPORT CL-U3 External Frame Grabber converts video from Camera Link into uncompressed image stream transmitted by USB3. Booth 5634
Avantes is showing its AvaSpec-ULS2048L-EVO spectrometer with USB3 communication. Booth 2311
Lumics' LuOcean Mini 4 diode laser modules are designed for applications in medical life sciences, sensing, pumping and more. Booth 4629
Admesy shows Cronus Bhaskar for high-speed LED bub measurement. Booth 5134
Princeton Instruments has on display its high-speed ProEM-HS:1024 BX3 EMCCD camer with eXcelon3 technology.. Booth 1811
Frankfurt Laser offers high power 1W Red, Green, Blue IR Line laser modules.. Booth 2501
Molex will highlight its Polymer Technologies Optical Fiber, Optical Fiber Bundles and Medical Assemblies. Booth 2137.
Novus Light Technologies Today will have a free sign up for a subscription to Light Conversation, a leading newsletter serving the light technologies industries. Booth 2829
Written by Anne Fischer, Managing Editor, Novus Light Technologies Today