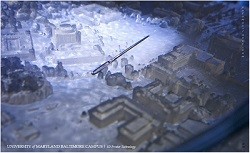 Potomac Photonics, a specialist in micro Digital Fabrication, has 3D printed a re-creation of the University of Maryland, Baltimore County (UMBC) Campus, in which the model is about 1/4000 the size of the original campus. The micro 3D Print was created from a model generated by aerial robotic photography as part of Ecosynth, an open source project at UMBC for creating 3D models of terrain.

To generate the model, UMBC mechanical engineering students Stephen Gienow and Lindsay Digman used a camera mounted on a robotic Octo-copter, which is a radio-controlled (RC) helicopter with eight propellers. More than 5000 photos were captured in three consecutive flights that took in excess of an hour to collect. The students explained that the copters fly a grid pattern taking thousands of photographs blanketing the terrain. The software Agisoft Photoscan then digitally processes the photos building 3D geometry from them.

The resulting full-colour 3D map includes 10 centimetre-per-pixel resolution and approximately 10 meters of Global Positioning System (GPS) accuracy. Potomac Photonics then used a 3D Systems high-resolution ProJet 3D printer to 3D Print a miniaturised representation of the UMBC campus from the map. President and CEO of Potomac Photonics, Mike Adelstein, commented that the miniature buildings they were able to create are a natural extension of their work creating micro-parts for the medical device, sensor, microelectronics, microfluidics, consumer and biotech industries.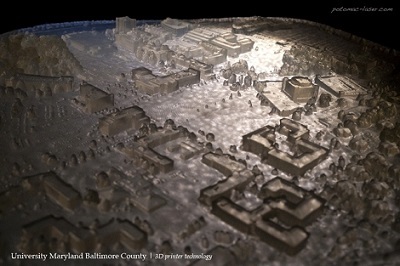 3D Printed Terrain Map of UMBC Campus
Adelstein goes on to explain that supporting STEM education (Science, Technology, Engineering, and Mathematics) is also about economic development. Stephen and Lindsay are working to leverage their experience into a small business that offers 2D mapping, 3D scanning and miniature landscape printing services.