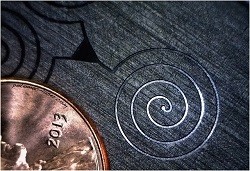 Potomac Photonics, Inc. has added hot-embossing technology to expand its digital fabrication contract service capabilities. The company combines this replication technique with laser micromachined masters to make high-precision, high-quality parts quickly.
According to Mike Adelstein, president and chief executive officer of Potomac Photonics, a prime advantage of the Potomac system is that laser micromachining can replace lithography for master generation. Generating the master through laser micromachining is also less expensive than traditional processes.
Micro-fluidic devices are one example of how Potomac can combine manufacturing processes to complete the entire part or even an assembly. The field is increasingly using polymers, as they have better performance characteristics at lower cost than glass devices do. Laser micromachining fabricates a master; then, hot embossing takes over to transfer the design into plastic. Glass or polymer covers can then be bonded onto the device for easier visual inspection while ensuring a good seal that can withstand pressure. For fluid introduction, micro holes can be drilled into the glass or polymer. If an interface into an assembly is required, Potomac MesoSystems can provide a custom microelectronics solution along with additional packaging.
Rapid prototyping is an obvious use of the new technologies. However, the hot-embossing step can stamp volume parts immediately to produce quantities perfect for short production runs. Hot embossing also provides the option to choose polystyrene, poly-methyl-meth-acrylate (PMMA) and cyclic olefin copolymers (COC) as materials since they can't be easily machined either by lasers or microcomputer numerical control (micro-CNC) to create direct parts.