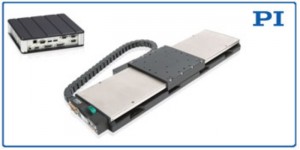 Precision positioning systems specialist PI (Physik Instrumente) has released an elevated version of its ironless linear motor stage, LMS-180, which is suited for precision automation applications in industry and research that require highly accurate linear motion over long travel with high load capacity.
High speed, precision, load and durability
The LMS-180 linear stage family is available with five travel ranges from 6" (155 mm) to 20" (508 mm). Equipped with an ironless electromagnetic linear motor, the LMS-180 delivers smooth motion with 15-nanometers resolution and repeatability down to 0.05 microns. When driven with the SMC Hydra closed-loop motion controller, a maximum velocity of 19.7"/second (500 mm/sec) is reached. Highly accurate position feedback is provided by an integrated direct-measuring incremental linear encoder with sine/cosine output. Recirculating ball bearings provide high-load capacity of 250N (56 lbs) and durability at repetitive cycle rates with high speeds.
Why ironless linear motors
Ironless, non-cogging linear motors provide smooth motion and a high-dynamic velocity range along with rapid acceleration. They are made for applications where high resolution and extremely constant velocity is required, such as in optics inspection, metrology, photonics, interferometry and semiconductor test equipment. The frictionless, zero-wear motor drives are also used in fast automation applications, where reliability and maximum uptime are crucial.
Alternate drive options
The LMS-180 stage is also available in a modified version (LS-180) with a ballscrew drive and rotary stepper and servo motor options. The LS-180 stage provides even higher load capacity of 1000 N (224 lbs), as well as higher push/pull forces. It is mounting compatible to the LMS-180 for easy assembly of multi-axis systems.
Standard and custom
PI can modify existing product designs or provide a fully customized OEM part to fit the exact requirements of the customer's application.