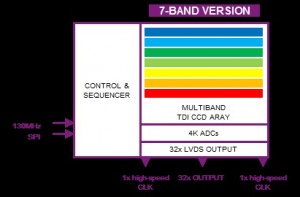 At Photonics West, Imec, a research and innovation hub in nano-electronics and digital technologies, showcases a prototype of a high-performance multispectral time-delay-integration (TDI) imager that is based on charge-coupled device (CCD)-in-CMOS technology. Due to its high sensitivity and record high speed (up to 300 kHz), this next-generation TDI imager targets high-end applications, such as remote sensing, life sciences and machine vision. The specialty imagers are offered through various business models, including full-custom design, prototype TDI sensors and evaluation cameras.
TDI imaging technology relies on the collection of charges that are generated from multiple exposures of an object moving linearly with respect to the imager. Traditionally, this is done through CCD technology where the charge transfer in the CCD pixels results in a noiseless integration and transfer synchronized with the moving scene. By implementing the CCD TDI pixels together with a CMOS readout, Imec combines the best of both worlds on one single chip: low-noise TDI performance, and low-power, on-chip integration of fast and complex circuitry readout.
Imec produced the sensors in one CMOS-compatible flow, resulting in a simple and cost-effective solution. Using backside-illumination technology, the area that is exposed to light is maximized, increasing the sensor's light sensitivity. To enhance the TDI imaging performance, the TDI CCD-in-CMOS technology was combined with multispectral or RGB color filters that can be processed at wafer level or alternatively, filters on glass may be used.
Imec offers its CCD-in-CMOS TDI technology through various business models, ranging from full-custom design to offering of imec's prototype TDI sensors and evaluation cameras. The prototype TDI sensors use a format with 4096 columns and 256 stages per CCD array (or band). A version with one CCD array is available, as well as a 7-band version, allowing to add 7 spectral filters. The prototypes integrate CMOS drivers and readout circuitry.