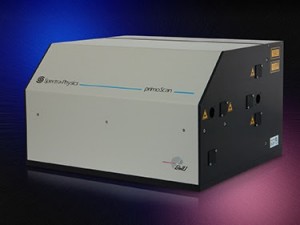 MKS Instruments, Inc. announces that its Spectra-Physics business unit introduces primoScan, a new line of pulsed optical parametric oscillators (OPOs). With ultra-wide tuning from 192 nm to 2750 nm, the new OPOs output the highest energy for a broadband OPO and highest UV energy for a midband ultra-low divergence OPO. The new fully automated OPOs offer fast wavelength switching along with excellent beam quality. primoScan is ideal for high energy spectroscopy applications in materials analysis, laser-induced fluorescence, remote sensing, combustion studies, and photoacoustic imaging.
primoScan delivers the highest efficiencies and excellent beam quality throughout the entire tuning range from 10 to 50 Hz repetition rates. Pumped by Spectra-Physics' Quanta-Ray high energy pulsed lasers, the new OPO delivers energies as high as 285 mJ. The lowest pump thresholds and fluences on the market result in long lifetimes of internal components and high efficiencies. primoScan features fast wavelength switching among ten pre-selectable wavelengths each second and the ability to easily access all tunable beams from a single port.
Spectra-Physics' primoScan will be featured at SPIE Photonics West, Moscone Center, San Francisco, California, January 31 to February 2, 2017. Please visit MKS at booth #1400 for a demonstration.