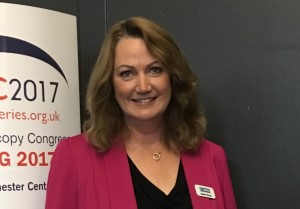 The Royal Microscopical Society has announced Allison Winton as their new Chief Executive.
Since 1839, the RMS has been supporting scientists at all stages of their career and promoting the science to a wider audience. But behind the scenes, a team of office staff ensure the Society is serving its members and hosting high quality events to scientists all over the world.
Allison Winton, recently appointed Chief Executive of the Society, has been a part of this team for over 30 years and in that time has run more than 15 successful mmc events (previously microscience), established the Corporate Advisory Board — building a closer partnership between the RMS and microscope companies, and led the organization of the European Microscopy Congress emc2012 in Manchester (UK). Through organizing these international events and attending RMS committee meetings for the past eight years, Winton has developed connections between the RMS and scientists and trade representatives. It is these networks, relationships and her deep understanding of the Society as a whole that make Winton a leader for the future of the RMS.