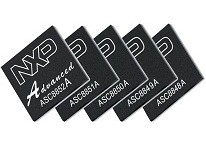 NXP Semiconductors NV announced its Advanced ASC884xA and ASC885xA series of single-chip video processors for high-definition (HD) Internet protocol (IP) security cameras. These devices integrate virtually all functions required for an IP camera design, from raw image sensor data input, image signal processing (ISP) and H.264 compression, to secure encrypted transmission over the network through a gigabit Ethernet (GigE) interface.
Capturing as many as 60 frames per second (fps) at full HD resolution (1080p/60), NXP's new Advanced series supports H.264 High Profile encoding while consuming less than 1.5 watts (W) of power. Further, the ASC884xA and ASC885xA devices enable clear video images through advanced ISP features, such as flexible spatial and temporal (2D/3D) noise reduction for low-light performance, which is critical for security cameras operating under a wide range of lighting conditions, as well as programmable edge enhancement. NXP is showcasing the ASC884xA and ASC885xA series along with other solutions for the "Internet of Things" (IoT) this week at Security China 2012 at the China International Exhibition Center (hall E1, booth H45) in Beijing, China. The demonstration "Enabling HD IP security cameras for networked surveillance" can be seen here:
According to Rick Dumont, global marketing director for IP camera products at NXP Semiconductors, "The Advanced Series is taking networked video surveillance to the next level, enabling stunningly clear HD motion-picture images, even indoors and at night, as well as H.264 High Profile compression at" low "bit rates to reduce network load and hard disk video storage space."
NXP's Advanced series HD IP camera product can support as much as 12MP of raw image sensor data input, with flexibility of scalable video coding (SVC) and region of interest (ROI) encoding and the ability to encode 5MP resolution video at 25 fps or any sensor resolution in between. The feature-rich image processing pipeline has very flexible 3D noise reduction options, as well as edge enhancement and motion adaptive de-interlacing.
Evaluation samples of the ASC8848A, ASC8849A, ASC8850A, ASC8851A and ASC8852A will be available starting in the first quarter of 2013, with volume manufacturing starting in the second quarter.