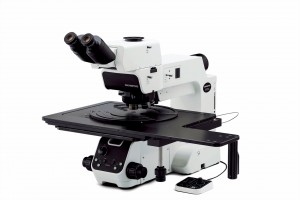 Olympus, a global technology provider of industrial imaging solutions, will have its experts available for product demonstrations at SEMICON West, 11–13 July in San Francisco, California (US). The Olympus booth (#6148) will be previewing a new product specifically designed for the semiconductor and electronics fields and will also be exhibiting the LEXT OLS4100 and DSX510.
MX63
Launching in June 2017, the new MX63 and MX63L microscopes support the strict ergonomic rules of the semiconductor industry, meeting SEMI's Environmental, Health, and Safety Guideline for Semiconductor Manufacturing Equipment (SEMI S2-0712b) and Safety Guidelines for Ergonomics Engineering of Semiconductor Manufacturing (SEMI S8-0712a), and complying with CE and UL.
OLS4100
The LEXT OLS4100 laser confocal microscope system is designed to deliver nanometer-level imaging, accurate 3D measurement and surface roughness analysis. The OLS4100 features new auto-brightness and high-speed stitching modes.
DSX510
Through a combination of time-tested Olympus optics and today's newest digital imaging technology, the Olympus DSX510 digital microscope system allows even less experienced users to produce superior images and reliable results.