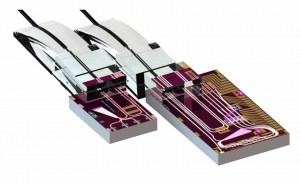 People are consuming more data than ever before. For large Web 2.0 companies with hyperscale data centers that are striving to meet bandwidth demands, silicon photonics has become the more practical solution.
"The datacenters have to continuously improve their computational power to allow more and more services to the consumer," said Milind Gokhale, Vice President of Research & Development at NeoPhotonics.
"That's really what is fueling high speed solutions like silicon photonics, which can scale and really use the power of silicon electronics infrastructure to continue that growth."
100Gb/s silicon photonics solution
NeoPhotonics, a manufacturer of high power lasers for optoelectronic devices, recently deployed the first 100Gb/s solution in datacenters in conjunction with Mellanox Technologies, an end-to-end interconnect company. Unlike traditional telecom packaging, which involved expensive, hand-assembled parts, the latest 100G technology comprises of one silicon transceiver chip with a laser bonded to it; it runs on a parallel single mode fibers infrastructure, or PSM4, which divides the laser into four 25Gb/s channels over separate fibers, supporting 100Gb/s over 2km with less than 3.5 watts of power.
The design of silicon photonics is much more scalable for large-scale datacenters, says Arlon Martin, Senior Director of Marketing at Mellanox, which contributes to the market's rapid growth. The subassembly process is very similar to adding things onto a circuit, and it's possible to manufacture one-hundred thousand or even a million units per year. To be able to mass produce at low costs and run with so little power is what makes silicon photonics so attractive to datacenters.
New wave of conversions
Martin indicated that hyperscale datacenters like Facebook, Amazon, Microsoft, and Google all run on a 3-year cycle, when it becomes more costly to operate old servers than to buy new ones. Most of them are nearing the end of their cycle this year and will be upgrading to 100G servers over the next two years.
Going from 50 to 100Gb/s is a pretty big step for datacenters, said Martin. They have been using 10g and 40g technology for over a decade, where all the electrical and optical lines ran at the standard 10Gb/s. Upgrading each lane to 25Gb/s now requires new drivers, switches, and synchronization with softwares.
"I think [data centers] went through a pretty long system in terms of making sure that every combination would work together," said Martin, "and they wouldn't do (the upgrade) until the cost points and the supply line that supports the volume that they need is in place."
So far though, the advantages of silicon photonics have outweighed the hurdles.
"At 100G, I would expect to see more (silicon photonics) players and silicon photonics used because of the cost pressures and because of power consumption," said Martin.
Multiple solutions beyond 100g
Another selling point of silicon photonics is that it offers multiple ways for higher speeds without a drastic change to the base technology. Back in March, Mellanox announced the production of 200Gb/s Quad Small Form-factor Pluggable (QSFP56)--the largest volume form factor inside today's data centers--featuring narrower modulator and detector areas that propagate data at double the speed. Their solution is expected to be available in 2017.
Then there's the capability to add more channels of different colored wavelengths in a single mode fiber using wave division multiplexing (WDM); each channel is fed by an independent laser, which can be manufactured cheaply, and runs through a combiner onto one strand of fiber. Having 8 channels running at 50Gb/s, for instance, translates to 400G transmission speed.
"We've gone up to 40 channels on a single fiber," explained Martin, "so we have a lot of headroom there."
Yet there are still other ways to do 400G. Gokhale hinted that putting electronic coding in the silicon itself--like the four level coding used in pulse amplitude modulation 4 (PAM4)--can double the amount of bytes per transmission and multiply the speed that way as well.
Though multiple solutions are coming to silicon photonics, both Martin and Gokhale emphasize that the optical components alone won't be enough to get us to higher speeds, which is one reason why 400Gb/s is taking more time to market. "You can't just have a fast modulator, you need the drivers and electronics to work at those speeds as well," said Martin. He reveals that many novel devices are currently undergoing that integration process.
"All the silicon photonics elements have to work together to continue to create higher speed, higher capacity, and at each point cheaper dollar per gigabyte," said Gokhale, "and that optimization process is still happening as we speak."
As researchers search for new integration solutions, people can expect the recent and upcoming deployment of 100g silicon photonics technology to greatly enhance their online experience, whether it's faster video streaming, better searches or machine learning. Though it's hard to predict which solutions will dominate future upgrades, the low costs, scalability and power efficiency of silicon photonics are setting high bars for the high speed niche.
"It's very clear silicon photonics is in, electronic coding is in, and multiple lasers are in," concluded Gokhale. Now, it's a matter of making sure that every leap in bandwidth comes at a lower incremental cost.
Written by Ella Xiong, a freelance writer and electrical engineer specializing in optics