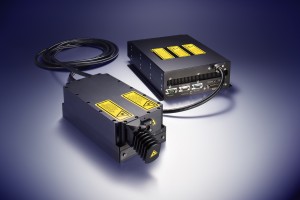 MKS Instruments' Spectra-Physics business unit has introduced a new pulsed green fiber laser with high output power and pulse energy.
The new VGEN-G-HE-30 delivers >30 W and high pulse energy up to 200 µJ in the green. The air-cooled laser features tunable, short pulse widths and dynamic on-the-fly adjustment of pulse repetition rates for precision control of micromachining and marking results. VGEN-G-HE-30 is suited for manufacturing applications in consumer electronics and clean energy.
VGEN-G-HE-30 provides flexibility with tunable pulse widths from 3 to 20 ns and adjustable repetition rates from single shot to 1.5 MHz. The new laser delivers a high-quality, near-diffraction-limited output beam for fine materials processing. VGEN-G-HE-30 is designed for cutting, scribing and high contrast marking of semiconductors, PC boards, flat panel displays, solar cells, lithium-ion batteries, ceramics, plastics and metal parts.
The VGEN-G line of fiber lasers are designed and tested to provide long-life operation at low operational cost.