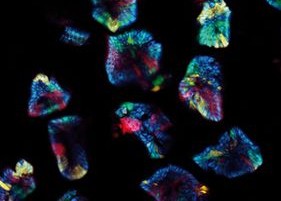 The ability to visualize complex biological processes in living tissues over time is key for driving research in the fields of neurosciences, cancer and inflammatory diseases. Existing and new transgenic fluorescence markers enable researchers to study function, interaction and development of living cells in their natural tissue environment. Until now their use was so far complex and cumbersome.
Deep In Vivo Explorer
With the launch of the new SP8 DIVE system, Leica Microsystems offers the world's first spectrally tunable solution for multi-color, multi-photon deep tissue imaging. DIVE stands for Deep In Vivo Explorer and enables researchers to capture up to four fluorophores simultaneously and an unlimited number of fluorophores sequentially. It is based on our all-new 4Tune detector technology combined with state-of-the-art HyD imaging chain. Together these technologies offer full spectral freedom enabling breakthroughs in multicolor deep tissue imaging.